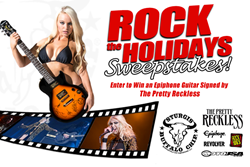 "This guitar is the only one in the world like it," says Rod Woodruff, president of the Sturgis Buffalo Chip.
Sturgis, SD (PRWEB) November 05, 2014
One music fan will receive a very special holiday gift this December from the Sturgis Buffalo Chip®, chart-topping hard rockers, The Pretty Reckless, as well as Epiphone, Revolver Magazine, Motorcycle USA and Salt Lake City's Rock 106.5. The winner of the "Rock the Holidays Sweepstakes" will receive a one-of-a-kind Les Paul Special II Epiphone® guitar featuring autographs from all of the members of The Pretty Reckless. The sweepstakes is free to enter, and registration is now open at http://www.BuffaloChip.com/RocktheHolidays.
In addition to band autographs, the Epiphone guitar features a mahogany body with a vintage sunburst finish, powerful humbucker pickup, mahogany neck and a rosewood fingerboard.
"This guitar is the only one in the world like it," says Rod Woodruff, president of the Sturgis Buffalo Chip. "Whether you play guitar or just like music, you will love this beautiful memento from the 2014 music festival."
The Pretty Reckless signed the "Rock the Holidays" guitar following the band's performance at the Buffalo Chip's nine-day Motorcycle and Music Festival during the 2014 Sturgis Rally. The group put its mark on the piece of Buffalo Chip memorabilia after thrilling thousands of motorcycling-revving fans in the audience and declaring its new-found love for the Chip from stage.
Fans may enter the Rock the Holidays Sweepstakes at http://www.BuffaloChip.com/RockTheHolidays or participating partners' sites for their chance to win this exclusive Buffalo Chip collectible. Registration closes Dec. 16, 2014 at 5 p.m. MST. The winner will be announced Dec 17.
The participating partners who made the Sturgis Buffalo Chip Rock the Holidays possible include Epiphone, The Pretty Reckless, Revolver Magazine, Rock 106.5 in Salt Lake City and MotorcycleUSA.com.
###
About The Sturgis Buffalo Chip
The Sturgis Buffalo Chip is host to the Largest Music Festival in Motorcycling™ and The Best Party Anywhere™. The Chip's nine days of concerts are free with camping. Passes grant access to music industry's hottest stars, the Bikini Beach Swim Paradise, 25 bars, mouth-watering food and beverage vendors and thrilling exhibits. The Sturgis Buffalo Chip offers clean, well maintained facilities, private showers, cabins, RVs, paved roads and more. Outrageous events such as unforgivably hot bikini contests and jaw-dropping daredevil stunts are a few of the many daily spectacles unique to the Chip. The famed creek-fed, 600-acre camping resort is located three miles east of Sturgis, SD. Now in its 34th year, this event is one of the few remaining family-owned, independent music festivals in the world. More details are available at http://www.BuffaloChip.com.
About Epiphone
Celebrating its 140th Anniversary, Epiphone is a leading innovator in musical instrument design and is the official instrument of Rocksmith 2014, the critically acclaimed video experience that is teaching millions around the world how to play guitar and bass. From Epiphone's humble beginnings in Sparta, Greece in 1873 through its rise to fame on 14th Street in Manhattan, to its reemergence as a dominant force in musical instruments from its new headquarters in Nashville, TN, Epiphone instruments can be heard on a century of classic recordings. Today, Epiphone instruments are played on stages and in studios around the world. Epiphone artists include legends Les Paul, The Beatles, The Rolling Stones, Joe Pass, John Lee Hooker, The Who, and today's top artists like Gary Clark Jr., Paul McCartney, Dave Grohl, Jack Casady, Joe Bonamassa, Zakk Wylde, Dwight Yoakam, Tommy Thayer of KISS, Slash, FUN., Matt Heafy, Alabama Shakes, Vampire Weekend, and Brendon Small. As part of Gibson Brands, Epiphone offers innovation, history, and the guarantee that their instruments can last you a lifetime. http://www.epiphone.com