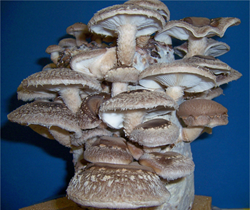 If you like Mushrooms these are wonderful because they are the freshest you can get. If you have children it will be a lesson they will enjoy being part of.
Sebastopol, CA (PRWEB) November 10, 2014
Gourmet Mushroom and Health Products (GMHP) sent out Shiitake Mushroom Kits to members of the National Home Gardening Club for independent testing. The positive response from testers earned the Shiitake Mushroom Kit the Club's Member Tested & Recommended Seal of Approval.
GMHP Shiitake Mushroom Kits are designed and produced specifically for in-home mushroom cultivation and shipped directly to our customers when they have maximum potential for producing mushrooms! GMHP's Shiitake Mushroom Logs start with Certified Organic seed, are easy to use and guaranteed able to produce. A perfect gift, Shiitake Mushroom Kits allow you to grow fresh mushrooms almost anywhere in your home. Just open an all-inclusive kit, add water and watch the mushrooms grow over a period of 7-14 days.
Sample of some Shiitake Mushroom Kit reviews which earned the Gardening How-To Magazine seal of approval:

"Easy to use fun to track your progress and delicious to eat!"
"I would recommend this mushroom growing kit for anyone, kids through adults. its pretty unique and rewarding when you harvest your first batch of mushrooms"
"This was so easy and fast. I loved it."
"I would recommend this product to others. It was fairly easy to get started and maintain. The volume of mushrooms produced was much greater than i expected."
"The instructions provided were very informative and easy to understand, had great results and I never attempted to grow mushrooms before."
"I recommend this product because it was fun and easy to use. The mushrooms sprouted very quickly and my whole family enjoyed watching them grow. They grew very quickly and only required watering twice a day. I am someone who kills most plants and I had no trouble at all growing these. It is a foolproof process and the finished product was delicious."
Shiitake is a star when it comes to versatility. This dark brown mushroom, with caps ranging in size from 2 to 4 inches, is the most widely consumed mushroom in Asia and a gourmet favorite in the United States. Its earthy fragrance and meaty texture enhances a wide variety of dishes since the results are beautiful whether they are sautéed, broiled, baked, grilled or stir fried. Shiitake mushrooms have traditionally been used to add complexity to stews or soups, and the stems create deeply flavorful stocks. Shiitake may also be stuffed and broiled.