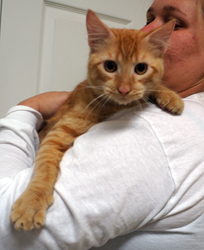 Merritt Island, Florida (PRWEB) November 05, 2014
A special rescue mission happened in Central Florida this week for a couple of very lucky felines. Shylo and Butter are two adorable kittens who were rescued off the streets of Puerto Rico where there are more than 300,000 homeless and abused dogs and cats wandering. They are routinely dumped into parks, schools and beaches; many times driven miles away so that they never find their way home again. They are abused, burned, maimed, and shot at just for fun. Today, thanks to the efforts of Save-A-Sato and the SPCA of Brevard, two of those 300,000 homeless animals in Puerto Rico will start new lives in a brand new community.
Save-A-Sato, a modest but dedicated rescue shelter, has made sure these little angels have gotten all the care and love they need and deserve, but Puerto Rico may not have a happy ending for them. Their goal is to send rescues to established shelters on the mainland. Because there is only five shelters on the whole island of Puerto Rico, the animals have no place to go. Animals rescued by Save-A-Sato are fully vetted and the organization pays for all travel expenses to get animals to safety.
"Normally, the SPCA doesn't accept cats from outside of Brevard County," explains Debra Cantwell, adoption coordinator, "however; this organization is working so hard to save the lives of animals from an area that gets very little exposure to the general population. With all the efforts that Save-A-Soto's volunteers make and the money they have invested to save them, we are making an exception to accept these two kittens into our shelter. Hopefully, this will not only save the lives of Shylo and Butter, but shine a light on the plight of homeless animals in Puerto Rico so that other organizations and individuals who may be able to help these forgotten and abused pets will be made aware of their dire situation."
Shylo and Butter waited patiently for their freedom flight to the SPCA and now they are available for adoption at the SPCA of Brevard's Merritt Square Mall Cat Adoption Center! They are about six months old, fully vetted and felv/fiv negative and are very sweet and love to cuddle. The Merritt Square Mall Adoption Center is just one of the SPCA's two satellite cat adoption centers, with the other location being at the Melbourne Square Mall. "We have nearly reached 1000 adoptions at the two mall locations alone since the first one opened on Black Friday last year," explains Susan Naylor, Media Specialist. "We hope that excitement over Shylo and Butter's rescue will drive more people to our mall locations to meet this very special pair and help us hit the 1000 adoption goal before Thanksgiving this month."
For more information about this rescue, contact Susan Naylor at 321-501-7696.
###
About SPCA of Brevard
The SPCA of Brevard is a private, non-profit organization with the mission of "protecting and providing a voice to the homeless animals of Brevard County." It receives no funding from the government and relies on private donations to be able to serve the community. It operates thrift stores in Titusville and Merritt Island, which are stocked solely with donations for resale to help fund adoption center locations.
Founded in 1979 in Titusville, Florida, the SPCA is the largest private no-kill animal rescue group in Brevard, will find homes for more than 2000 animals this year. It is the first adoption facility with free-roaming cat rooms in the County, allowing adopters to interact with the cats in a more home-like setting. Its new Adoption Center in Titusville is over 11,000 square feet and sits on nearly three acres. Additionally, it operates two satellite Cat Adoption Centers in the Melbourne and Merritt Square Malls, which have contributed to a 241% increase in adult cat adoptions. Additional adoption statistics can be found here. The SPCA of Brevard Clinic also provides reduced-price vaccines to the public and has performed more than 55,000 low-cost spay/neuter surgeries since 1999.
For more information, visit http://www.spcabrevard.com.
About Save A Sato
Save A Sato is a non-profit, all volunteer organization dedicated to easing the suffering of Puerto Rico's homeless and abused animals. "Sato" is slang for street dog. We rescue Satos from the streets and beaches, give them medical care, food and shelter, and plenty of love. When they are healthy, we send them to one of our shelter partners for adoption into loving homes.
For more information, visit http://www.saveasato.org