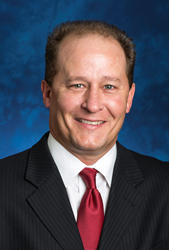 Jeff brings more than 19 years of experience in the FHA insured area of finance and has closed more than $600 million in FHA loans for a wide variety of property types including apartments, assisted living facilities and manufactured housing communities
New York, NY (PRWEB) November 05, 2014
Hunt Mortgage Group, a commercial real estate lender, announced today that Jeff Jones has joined the firm as Senior Vice President to help expand its FHA lending platform. Jones will be responsible for originating FHA insured loans of all program types, and in assisting the mortgage banking team with arranging FHA loans for their clients.
Jones will be based in Hunt's Dallas office and will report to Philip Melton, Senior Managing Director.
"Jeff brings more than 19 years of experience in the FHA insured area of finance and has closed more than $600 million in FHA loans for a wide variety of property types including apartments, assisted living facilities and manufactured housing communities," noted Melton. "Our team has a deep understanding of the challenges facing property owners and investors today and is expert at providing the financing solutions they need. We're very excited to have Jeff join the team, as he truly complements our capabilities."
Prior to his involvement with HUD loans, Jones was an underwriter for FDIC and RTC asset sales. Before joining Hunt Mortgage Group, he was a Senior Vice President with ACRE Capital and prior to that spent six years with Walker Dunlop, where he specialized in hospital financing under HUD's 242 program. While at Walker Dunlop, Jones closed HUD's largest for-profit hospital to date.
About Hunt Mortgage Group
Hunt Mortgage Group, a wholly owned subsidiary of Hunt Companies, Inc., is a specialty finance company focused on financing commercial real estate nationwide. The Company specializes in financing multifamily properties, but also finances: affordable housing, manufactured housing, healthcare/senior living, office, retail, industrial, and self-storage facilities throughout the United States. It offers Fannie Mae, Freddie Mac, HUD/FHA and its own proprietary loan products. The Company maintains a servicing portfolio of over $10.4 billion. Headquartered in New York City, Hunt Mortgage Group is comprised of 129 employees located in 15 locations throughout the United States. To learn more about Hunt Mortgage Group, visit http://www.huntmortgagegroup.com.