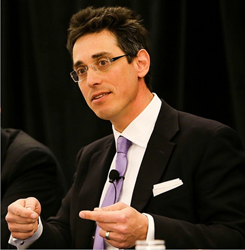 BOSTON, MASSACHUSETTS (PRWEB) November 06, 2014
With 100 percent of precincts reporting, independent gubernatorial candidate Evan Falchuk (http://www.Falchuk2014.org) has earned 3.3 percent of the vote in the November 4 race for Governor of Massachusetts, more than the three percent required by state law for the United Independent Party he founded to become an official party in the Commonwealth of Massachusetts.
The milestone means that the United Independent Party – dedicated to a greater diversity of progressive ideas combined with fiscally sane solutions – is taking its place alongside the Democratic and Republican parties, and as such will have equal election and fundraising laws and requirements. Already the new party is gearing up to run candidates for office throughout Massachusetts in the 2016 elections.
At 53 percent, Massachusetts has the nation's highest percentage of independent voters in the nation (termed "unenrolled" voters in Massachusetts), yet does not have one independent lawmaker, Falchuk noted. Further, a whopping 109 seats of the state legislature's 200 seats faced no opposition this year.
"Since just 35 percent of registered voters in the Commonwealth are Democrats, and only 11 percent are Republicans, we have the very real opportunity here of making Massachusetts the first state in the nation where the 'third' party actually becomes the 'second' party," Falchuk stated. "This is really significant in terms of where things are moving in many states, and can be used as a model for other states looking for a sensible party alternative more focused on dialogue and solutions than platitudes and sound bites."
Notably, nearly 20 Massachusetts candidates for office already have contacted Falchuk's campaign office about joining the new party and running under the United Independent Party banner in the 2016 elections – including current Democrats and Republicans.
"Some press and pundits said this couldn't be done, and here we are. The fact that this many people already are contacting us about running in the Massachusetts 2016 election speaks volumes. We are on to something here. We knew it all along. Now we'll prove it, and are genuinely honored to have the opportunity to do so."
The focus of the pragmatic, common-sense United Independent Party is that everyone is equal, everyone's civil rights must be protected, and lawmakers must spend taxpayers' hard-earned dollars wisely. The successful creation of the party marks the national trend of more voters calling for a credible third-party option; a record 60% of Americans are calling for creation of a new third party, according to Gallup.
To maintain major party status in Massachusetts alongside Republicans and Democrats, at least one percent of Massachusetts voters must be enrolled with the United Independent Party in time for the 2016 elections – an achievement Falchuk affirms already is underway, and one which the party will far exceed.
"During my campaign, we heard over and over again from so many voters that they want more options than just Democrat versus Republican, and the infighting and sound bites that so many of us have grown so tired of," said Falchuk. "This had to change, and voters in Massachusetts have made a loud statement with their votes to create this new party. In the face of sizable barriers and roadblocks put in our way, voters still showed up at the polls to support us, and in numbers unexpected by many political pundits and press outlets. We don't take this responsibility lightly, and will work hard every day to maintain the trust and faith voters have put in us and in our cause."
About Evan Falchuk
Evan Falchuk (http://www.Falchuk2014.org) ran in the 2014 Massachusetts gubernatorial election as the United Independent candidate, and is the founder of the United Independent Party, committed to moving from the outdated establishment debate of "small government versus big government" to one focused on greater fiscal accountability to voters, stronger protection of civil rights, and innovative, pragmatic solutions that improve the day-to-day lives of people, families and communities. A Massachusetts native and global business executive, Falchuk is calling for smart, brave reform of our politics, economy and government.
# # #
To schedule an interview with Evan Falchuk or for more information, contact Jen Beltz at jbeltz(at)Falchuk2014(dot)org, (617) 780-0821, or (857) 239-1444.