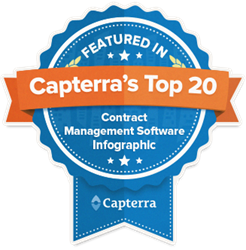 Contract management is risk management.
Portland, OR (PRWEB) November 06, 2014
Contract Analyst was named one of the leading contract management solutions for 2014 by Capterra. Contract management software allows organizations in any industry to store, track, and manage contracts in one location. Contract management software automatically notifies key personnel in the organization about important due dates and events during the lifecycle of the contract.
Contract management software must be flexible, easy to use, and backed by expertise. Contract management is now an integral part of risk management and compliance for most organizations. There are three essential elements of exceptional contract management solutions:
1. Easy to Customize
Every organization has particular requirements. Contract management software should allow users to modify the metadata about contracts without software coding.
2. Rapid Implementation
Long implementation cycles slow the return on investment in contract management solutions. The technology needs to support rapid set up.
3. Risk Management and Compliance Expertise
Technology to manage contracts must include risk management and compliance features, because of the financial losses that arise from missed deadlines and ineffective reporting.
Berkman Solutions is one vendor that fulfills all three requirements. Customers of Berkman Solutions operate around the world and across industries. They range from Fortune 500 companies to small and medium businesses. Each customer, however, shares a need to improve business performance with better contract management.
"We are honored once again that Capterra has named us one of the best contract management providers," says Sherrie Riley, Senior Vice President of Sales for Berkman Solutions. "Our clients are great partners. Their enthusiasm for our products and services is rewarding."
"This recognition caps another remarkable year of growth for us," says Mark Little, President and CEO of Berkman Solutions. "We have expanded our suite of products and services to meet the growing compliance and risk management demands of our customers." Little adds, "Contract management software is no longer just about deadlines and alerts. Contract management is risk management."
About Berkman Solutions
Berkman Solutions provides powerful solutions that are easily tailored to each organization's unique needs. Contract Analyst simplifies contract management, legal entity management and risk management. Berkman Solutions' global client list spans a broad range of industries including business and legal services, medical and pharmaceutical, energy, financial services, manufacturing, distribution, supply chain, communication, transportation, non-profit, and government.