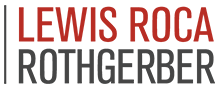 (PRWEB) November 05, 2014
Lewis Roca Rothgerber LLP proudly announces that U.S. News & World Report and Best Lawyers have included the firm in the 2015 "Best Law Firms" rankings. Lewis Roca Rothgerber achieved national rankings in 20 practice areas and metropolitan rankings in 93 practice areas – including top tier national recognition in Commercial Litigation, Litigation – Banking & Finance and Litigation – Regulatory Enforcement (SEC, Telecom, Energy).
Firms included in the 2015 "Best Law Firms" list are recognized for professional excellence with persistently impressive ratings from clients and peers. Achieving a tiered ranking signals a unique combination of quality law practice and breadth of legal expertise.
Lewis Roca Rothgerber recently announced that 84 of its attorneys were selected by their peers for inclusion in the 2015 edition of The Best Lawyers in America and 10 Lewis Roca Rothgerber attorneys were honored as the Best Lawyers® 2015 "Lawyer of the Year" in their respective markets and practice areas.
About "Best Law Firms"
The U.S. News – Best Lawyers® "Best Law Firms" rankings are based on a rigorous evaluation process that includes the collection of client and lawyer evaluations, peer review from leading attorneys in their field, and review of additional information provided by law firms as part of the formal submission process. To be eligible for a ranking, a law firm must have at least one lawyer listed in 20th Edition of The Best Lawyers in America© list for that particular location and specialty.
About U.S. News & World Report
U.S. News & World Report is a multimedia publisher of news, consumer advice, rankings and analysis. Focusing on Education, Health, Personal Finance, Travel, Cars and News & Opinion, http://www.usnews.com has earned a reputation as the leading provider of consumer advice and analysis that helps its readers make informed life decisions. U.S. News & World Report's signature franchise includes its "Best" series of consumer advice guides and publications that include rankings of colleges, hospitals, mutual funds, cars and more.
About Lewis Roca Rothgerber LLP
Lewis Roca Rothgerber LLP is one of the largest law firms in the Western U.S. The firm maintains thriving practices in intellectual property, litigation, real estate, business transactions, gaming, banking, bankruptcy and energy and natural resources with more than 250 attorneys across nine offices including Phoenix, Albuquerque, Casper, Colorado Springs, Denver, Las Vegas, Reno, Silicon Valley and Tucson. For additional information, please visit http://www.LRRLaw.com.