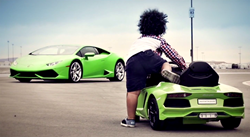 Matis, 19 months, loves to "drive" the Huracán.
Las Vegas, NV (PRWEB) November 05, 2014
With the arrival of the $240,000 Lamborghini Huracán Exotics Racing invites drivers to get behind the wheel and drive. Sitting in your "every day" car on the highway vs. racing the new Lamborghini around a track is comparing a child to a man.
As a kid, a toy Lamborghini was a gift creating memories for years, as a man, driving a Lamborghini on a racetrack creates a memory for a lifetime. Exotics Racing asks, "Why play with a toy when you can drive the real thing?" French stunt, racecar driver and Exotics Racing co-CEO Romain Thievin is featured in the latest EXR promotional video; a departure from the typical high adrenaline promotional video shoots at Las Vegas Motor Speedway. The speeds and stunts are slightly subdued as guest video star Matis Thievin Mortaud takes to the screen.
Romain's ideas for stunts were stunted in part because his wife, Miss France 2009, Chloe Mortaud who filled the role of Director. Matis, 19 months old, was being closely watched and guarded by his mom, Chloe Mortaud, throughout the shoot. The video artfully shows the play between the Thievin's, dad and son, and the Lamborghini, toy and actual.
Isn't it time you got behind the wheel of a Lamborghini supercar and tested your track driving skills? Drive the new Huracán on Exotics Racing private racetracks and for only $399 for 5 laps, you'll race up to 130mph on the straights, feel the G-Forces on the turns and fulfill your childhood and adult fantasies; legally.
Here is the YouTube link: http://youtu.be/8ma_BIueK5o
About Exotics Racing: Founded by French stunt driver and racecar driver Romain Thievin and David Perisset, Exotics Racing brings you the original supercar track driving experience, with the world's largest fleet of exotic cars. Launched in 2009 at Las Vegas Motor Speedway, Exotics Racing has hosted over 130,000 satisfied customers. Guests visit the track from around the world to drive today's most exciting supercars with professional racing instruction on real race tracks in Las Vegas and Los Angeles. Details for the racing school can be found on http://www.exoticsracing.com or calling (702) 405-7223.
Media Contact:
Josh Martin, Director of Marketing, Exotics Racing; josh@exoticsracing.com
Stephan Legrand, Director of Communications, Exotics Racing: stephan@exoticsracing.com