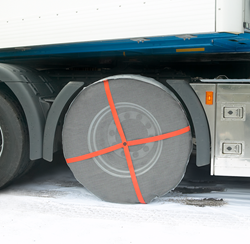 LAS VEGAS, NEVADA (PRWEB) November 05, 2014
AutoSock AS, the inventor of textile based traction devices for passenger and commercial vehicles, today announced two important developments at the Automotive Aftermarket Parts Expo (AAPEX) in Las Vegas, NV.
First, the company confirmed that use of the AutoSock has been granted approval by the State of Nevada.
Bernt J. Rosli, AutoSock CEO commented, "We are excited the AutoSock has been approved in Nevada. This is just another proof point for the benefit our product provides, and the need it meets across the US and abroad. With winter quickly approaching, drivers of passenger vehicles have access to our ATD to help them navigate and drive more safely this winter."
In a separate announcement, AutoSock signed a strategic distribution agreement with Laclede Chain Manufacturing to sell AutoSock's products to Laclede's customers.
Rosli continued, "Our distribution agreement with Laclede Chain Manufacturing will further support our company as we bring products to consumers across the US. The AutoSock is a great complement to Laclede's impressive line of tire traction chains."
"Adding AutoSock to our product portfolio is a big win for Laclede Chain Manufacturing," said CEO and President, Jim Riley. "With millions of satisfied customers throughout the world, AutoSock now provides our customers with another great product."
About AutoSock
The AutoSock patented textile cover uses high-performance fibers and a specially designed surface pattern to maximize friction on snow and ice covered roads by making the total contact area exposed to dry friction as large as possible. The ATD is much safer and easier to put on a vehicle than traditional chains and it weighs less. In testing on trucks, AutoSock has exhibited better traction as well, and it is fully compatible with ABS and traction control systems.
AutoSock also does not damage road surfaces, unlike metal chains, because its material is softer than concrete and asphalt. In approving the ATD for use, the Nevada Department of Transportation noted that these "traction devices are manufactured and made of synthetic materials which includes fabrics or plastics and have a composition and design capable of improving vehicle traction, braking and cornering ability upon snow, ice-covered or slippery surfaces."
AutoSock is available for passenger cars and commercial vehicles or combinations over 10,000 lbs GVWR with five or fewer axles, including Class 3-8 medium- and heavy-duty trucks with small tire sizes to wide base singles. The ATD can be installed in less than five minutes per wheel, minimizing a driver's exposure to weather and traffic, and at less than 5 lbs per pair provides a weight savings compared to a 50-lb set of traditional chains. Autosock is also easy to store inside a cab or tool compartment, and unlike tire chains, will not damage a vehicle's fenders and exposed brake lines while in use.
Detailed information about AutoSock for consumers and fleets is available at http://www.autosock.us, including links to each state's traction device regulations such as usage restrictions based on weather conditions. The site can also be accessed on mobile devices, allowing drivers to obtain installation and other information on the road.
For AutoSock product images, please visit http://www.autosock.com/en/news-medias/image-gallery.html
About AutoSock AS
AutoSock AS is a Norwegian research-based company founded in 1998. In 2001 AutoSock was approved by TÜV, which is regarded as a world-leading test and certification association, and is now approved globally in various jurisdictions and by several truck and car manufacturers. Through 2013, over two and a half million pairs of AutoSock were in use worldwide. For more information, visit http://www.autosock.com.
Contact:
Darren Horwitz
Imprint PR
P: 972.890.7638
E: darren.horwitz(at)imprintpr(dot)com