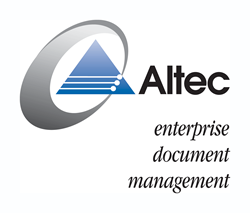 doc-link can better optimize a company's use of its enterprise resource planning (ERP) software.
Laguna Hills, CA (PRWEB) November 05, 2014
Altec Products, Inc., a leader in enterprise document management and workflow solutions, announced today their sponsorship of reIMAGINE 2014 hosted by Dynamic Partner Connections. The three-day event will take place at the Holiday Inn of Fargo, ND from November 10th through 12th, drawing Microsoft Dynamics GP partners interested in learning how to sell more, market better and create innovative solutions and applications.
Dynamic Partner Connections is dedicated to helping Microsoft Dynamics resellers increase their business success with educational conferences such as reIMAGINE. The event will provide attendees from across the business role spectrum with learning opportunities, sharing of best practices and great advice from industry experts. For instance, sales employees will learn to build winning sales strategies and hone their presentation skills; marketing employees will craft unforgettable messages and build easy-to-implement content plans; consultants will discover the specific ways that Microsoft Dynamics GP can solve customers' business challenges and developers will get hands-on experience in creating, integrating and optimizing applications for Dynamics GP.
Keynote sessions, breakout sessions, networking receptions and post-conference training opportunities define reIMAGINE 2014 as a must-attend event for all Microsoft Dynamics partners looking to reimagine their business plans and the role that Microsoft Dynamics GP plays. Altec will attend the event, sharing how integrated document management solution doc-link can better optimize a company's use of its enterprise resource planning (ERP) software. doc-link is a Certified for Microsoft Dynamics (CfMD) solution that brings greater security and control to any department through integrated automation of business processes.
Altec Channel Program Manager Christi Sobodos will attend reIMAGINE and host Altec's table on Monday from 12:30pm to 1:30pm. Sobodos will have doc-link collateral on hand and looks forward to sharing information about the document management solution. She notes, "reIMAGINE is an indispensable opportunity for partners. It not only provides a wealth of resources but also prompts attendees to take action and utilize their newfound skills to create and act upon courses of action."
For more information about reIMAGINE 2014, please visit http://reimagine2014.com.
About Altec
Altec is a leading provider of Integrated Document Management (IDM) solutions to mid-market companies. For more than 25 years, Altec has provided a wide range of accounting-centric paper to paperless solutions including its flagship product, doc-link™, which enables companies to capture, archive, workflow and route structured and unstructured documents to customers, employees and vendors. Altec's comprehensive solutions include IDM, output management, MICR check disbursement and paper documents that serve more than 13,000 customers worldwide. Altec enjoys strong, collaborative partnerships with ERP solution providers like Microsoft Dynamics to provide the most comprehensive, integrated enterprise document management solution. Altec delivers its IDM solutions through a global network of authorized partners in more than 60 countries throughout the Americas, EMEA and Asia Pacific. For more information, visit Altec at the company website at http://www.altec-inc.com. Follow them on Twitter.com/doclinkbyAltec or call April Blankenship at 1-800-997-9921.
About Dynamic Partner Connections
Dynamic Partner Connections (DPC) is part of Dynamic Communities, the global user group of Microsoft Dynamics customers with over 13,000 company members and 80,000 individual contacts. At DPC, they focus their efforts entirely on one important subset of the Dynamics community - Dynamics partners. For additional information, visit http://www.dynamicpartnerconnections.com.
# # #