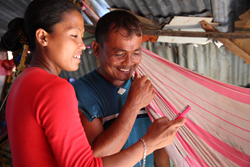 Portland, Oregon (PRWEB) November 05, 2014
One year after Typhoon Haiyan devastated the Philippines, Mercy Corps is helping expand mobile banking solutions in remote, low-income communities hardest hit by the storm. Mercy Corps and BPI Globe BanKO, the Philippines' first mobile phone-based savings bank, have distributed a total of US $2.3 million in emergency cash assistance to typhoon-affected families since the storm hit 12 months ago.
"By delivering cash assistance through a mobile banking system, our emergency relief efforts not only helped more than 25,000 people rebuild their lives, but also connected many people to banking services for the first time," says Neal Keny-Guyer, chief executive officer of Mercy Corps. "In a country of 7,000 islands where most people don't have access to traditional brick-and-mortar banks, thousands can now save money securely, take out affordable loans and purchase insurance."
Mercy Corps and BanKO have been working together in the Philippines since 2011, providing mobile banking solutions for the poor. Currently they are testing a new small-business loan for typhoon survivors in the Visayas region. Up to 600 BanKO clients have been offered the opportunity to borrow between PHP 1,000 and PHP 5,000 (USD $22 - $112) to expand an existing business or start a new one. If clients from this pilot phase report satisfaction with the terms and processes of the small-business loan, then Mercy Corps and BanKO will make the product available to all new BanKO customers who have been impacted by Typhoon Haiyan.
"Although one year has passed, many people are still struggling," says Keny-Guyer. "Being able to borrow money at affordable rates and reasonable repayment schedules will help tremendously as people continue to rebuild their livelihoods and gain greater financial security."
About Mercy Corps
Mercy Corps is a leading global humanitarian agency saving and improving lives in the world's toughest places. mercycorps.org.
# # #