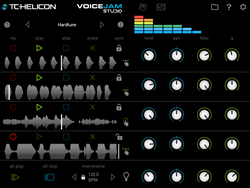 "We believe this app is the most powerful thing to happen to the human voice since the microphone," said Fred Speckeen, global business manager at TC-Helicon.
Victoria, BC (PRWEB) November 05, 2014
TC-Helicon announces Voice Jam Studio for iPad, the first music app that lets anyone create remarkable sounding studio-quality vocal compositions with advanced looping, powerful professional effects and seamless sharing via YouTube and SoundCloud.
Voice Jam Studio is a fun way for creative singers to produce music, explore their voices, unlock their potential and improve their craft. It is the only looping app designed with the complete performance and recording workflow in mind—from project conception to production to publishing.
Looping—recording a series of words and sounds and layering them atop of one another to create compositions—is a popular trend among singers, brought to the mainstream by countless Hip Hop artists and top vocalists such as Ed Sheeran, KT Tunstall, Dub FX, Imogen Heap and Ani DiFranco.
TC Helicon pioneered this musical form in its hardware-based products for years, and now brings the world's most powerful vocal effects and looper to the iPad. While simple looping apps can be found in the iTunes store, Voice Jam Studio offers singers of all levels far more performance and flexibility. In addition to TC-Helicon's proprietary vocal processing technologies, Voice Jam Studio enables advanced recording with four fully independent stereo tracks for loops of up to eight minutes—the longest loop time of any looping app—and 50 professional studio effects presets.
A huge range of TC-Helicon created sounds and effects—including HardTune™, auto pitch correction, gender bending, Transducer FX, distortion, delay, reverb, echo, chorus, flange, doubling and micromod—currently used by renowned recording artists - let singers hear themselves differently, using the tools they need to make magic with only their voice and an iPad.
"Voice Jam Studio is the 'GoPro' for singers of every skill level who want to create powerful vocal performances anywhere and share them quickly with anyone in the world over the Internet," said Fred Speckeen, global business manager at TC-Helicon. "We believe this app is the most powerful thing to happen to the human voice since the microphone."
Singers will enjoy Voice Jam Studio's audio and video integrated recording capabilities that allow them to share video content captured by the iPad face cam and video screen cam (that can show how compositions were made) with friends, bandmates and fans via SoundCloud or YouTube. Voice Jam Studio has AudioBus and Inter-App Audio integration, allowing singers to interconnect with popular guitar and drum apps, as well as GarageBand, to further enhance their music.
The Voice Jam Studio app is intuitive and easy to use, featuring built-in tutorials that help users hit the ground running as they choose their creative paths.
Considering that it used to cost thousands of dollars for the array of tools offered in this app, Voice Jam Studio represents a staggering value at only $19.99. In fact, for a limited time, vocalists can take advantage of a special introductory price of $9.99.
Voice Jam Studio is currently available in the App Store. For more information, please visit VoiceJamStudio.com.
# # #
About TC-Helicon
Based in Victoria BC, Canada, TC-Helicon believes that the voice is the world's most beautiful instrument and the anthropological source for all things melodic. The company's dedicated group of engineers, researchers and product specialists spend countless hours listening, talking, singing, and interacting with singers and those who have passion for the singing voice as they design products that respect and empower the modern vocalist. Their products remove barriers and inspire creativity in performance, and include everything from near-field personal vocal monitors to floor-based vocal multi-effects pedals. The company's name is derived from "TC," the initials of corporate parent TC Group, a collective of leading sound & audio technology brands that serve the musician, broadcast & production, install & tour market segments. "Helicon" is a mountain in Southern Greece and the mythological home of the Muses who inspire musicians, singers, poets and artists.