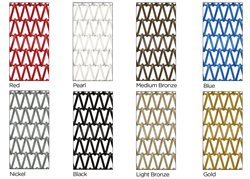 "We believe this is a game-changer for architects and designers who are looking for a broader selection in lighter weight mesh." Gary Compton, Cambridge Architectural Brand Manager
(PRWEB) November 06, 2014
Cambridge Architectural, the leader in flexible woven wire mesh for interior and exterior building applications, is expanding its product portfolio and is now offering anodized aluminum mesh in eight colors for interior applications such as ceiling canopies and architectural drapery. Cambridge now offers the largest variety of anodized aluminum mesh patterns and colors in the architectural products industry.
Cambridge anodized aluminum mesh is available in five patterns traditionally offered in stainless steel (Shade, Mid-Shade, Mid-Balance, Diamond and Windsor). Available colors are: light bronze, medium bronze, nickel, black, pearl, blue, red and gold.
"We believe this is a game-changer for architects and designers who are looking for a broader selection in lighter weight mesh," said Cambridge Architectural Brand Manager Gary Compton. "When you look at what's currently offered in aluminum mesh by other manufacturers, it's limited to a single pattern or two with only a couple choices in anodized colors."
More than one-third lighter in weight and requiring less structural support than stainless steel, Cambridge anodized aluminum also provides a warmer finish to the metal, according to Compton, and can be used as a decorative accent, canopy or curtain divider for a variety of interior design uses.
The lighter weight also offers the potential for lower overall costs depending on the project specifications, Compton said.
In addition to offering mesh, Cambridge can provide several sophisticated attachment systems for architectural drapery and ceiling canopies. The choices include Cambridge's Curtain Attachment System that attaches flexible metal fabric to carriers and allows the curtain to roll smoothly along the track length as a window treatment or draping space divider. Flexible metal fabrics are hung sideways to maximize a draping effect.
The company plans to further expand its aluminum product line in 2015 to include new attachment systems for tension mounting.
"As we continue to build and expand our portfolio of products, customers can expect the same craftsmanship and high quality standards that have been associated with our metal mesh for the last 103 years," Compton said.
Cambridge has produced aluminum mesh previously for custom jobs, including the elevator cabs at Carnegie Hall in New York.
About Cambridge Architectural
Cambridge Architectural, a division of Cambridge International is the most experienced full-service provider of sustainable architectural mesh systems for both interior and exterior building applications. As the world leader in tensioned mesh systems, Cambridge Architectural metal fabric solutions lend unique aesthetic appeal, functionality, affordability and sustainable benefits to a variety of structures interior and exterior. Cambridge Architectural offers full system design, engineering and collaboration from concept through installation – in the most challenging building environments and under the strictest budgets. Cambridge Architectural metal fabric systems are categorized by the primary applications they serve, including parking structures, exterior shades, facades, canopies, curtains and others. As a member of the United States Green Building Council, Cambridge Architectural is committed to promoting methods, technology and products resulting in environmentally responsible and healthy buildings. The Cambridge Architectural team develops systems that meet or exceed LEED requirements and provides consultation and direction on a project-by-project basis. Visit http://www.CambridgeArchitectural.com for more information.