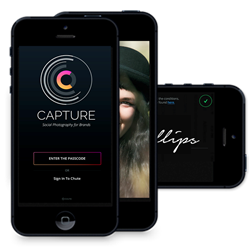 "Employees know your brand the best. They are the face of the company, at the front lines, directly interacting with customers both in-person and online."
San Francisco, CA (PRWEB) November 05, 2014
Nov. 5, 2014 – Chute, a visual marketing automation company, today announced their Brand Advocate Suite, which includes tools designed to empower and activate employees, street teams and brand ambassadors to easily and securely share rights-cleared photos and videos directly with a company before being published. This opens up a largely untapped source of authentic content, capturing the interactions between brand and consumer, whether in-store, at a live event or from a breaking news story to either use as inspiration or to publish on the brand's website, online store, social channels and ads. Additionally, Chute and Ditto Labs announced an industry-first partnership, which will provide brands and publishers with a robust solution for discovering consumer photos via computer vision for brand image recognition in addition to hashtags.
"Employees know your brand the best. They are the face of the company, at the front lines, directly interacting with customers both in-person and online. But until now, this incredible window into your customers' experience with your brand was largely cut off from brand marketers," said Ranvir Gujral, CEO and co-founder, Chute. "Our Brand Advocate Suite removes any barriers for employees and ambassadors to share special moments from their daily routines to help fuel a brands' visual communication strategy."
Survey Says
In a study of 500 employees working for consumer brands, 74% state they feel personally connected to the brand they work for, but less than half follow their employer on social media platforms and only 45% have ever shared anything about their employer there. The discrepancy comes from two primary reasons: 51% don't want to mix their personal social feeds with work and 38% are worried they would get into trouble if they shared something about their employer on social media. Of those, 64% said they would use an internal app, which allows them to share photos directly with their employer before being published.
Chute's Brand Advocate Suite
Every brand and publisher has hundreds, if not thousands, of potential content creators on its payroll. The suite is designed to unlock this resource in a way that is safe and comfortable for both brand and employee. The suite includes:

Chute Capture App: A mobile photo app, available today for iOS and Android, fully customizable to adhere to brand guidelines and the desired goals and outcomes of the organization. The app is then shared with employees to take photos and gather important details about the people in the photos, including their permission to use the content. All of this information is automatically sent to the organization's personal Chute admin panel, where the content can be moderated and published by the marketing and/or editorial teams.
Whitelisting/Blacklisting Tool: This allows brands to curate content shared by a specific users, from top fans to employees to news staff. Blacklisting prevents specific users or competitors from infiltrating campaigns and feeds.
Age-gating Tool: For brands who wish to keep content submissions to 18+ or 21+ fans, Chute's age-gating tools make it easy by pulling from followers already authenticated as above a certain age or by adding another layer of protection to verify age on landing pages.
Chute and Ditto
The partnership between Chute and Ditto creates an unprecedented discovery tool for consumer photos containing hashtags and those without, with Ditto's unique image recognition solution. These authentic customer photos become actionable by flowing into Chute's platform, where they can be organized, moderated, rights-cleared and ultimately published on websites, social channels, online stores, and ads.
About Chute
Chute helps brands turn visual content into engagement and actionable insights. Curate the best photos and videos from fans, obtain permission to use their content, gain valuable insights about your influencers and publish authentic visual media everywhere – from billboards to banner ads and everything in between. Chute works with some of the world's biggest brands and publishers including Ann Taylor, Atlantic Records, Benefit Cosmetics, NBCUniversal, Turner, Condé Nast, the NBA, New York Times and Nike. For more information, visit http://www.getchute.com.
About Ditto Labs
Ditto Labs is an award-winning image recognition company that uses hundreds of cloud-based servers to identify brands and products in the torrent of social media photos. Ditto's tools help the world's most innovative brands monitor trends, and act on the new signal of consumer affinity revealed in photos. Digital marketers use Ditto to learn how people are using products, measure their visual voice versus competitors, build influencer programs and target ads in social media. See a live feed of the top brands people are sharing now at streamditto.com.
Media Contact
Jody Farrar
Chute
jody.farrar(AT)getchute.com