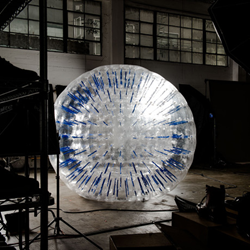 (PRWEB) November 05, 2014
HolleyWeb.com is a reliable online supplier; it is popular among worldwide people for its great balls. Recently, the company has announced its new designs of zorb balls. From today on, people from all over the world can order cheap zorb balls on its website. In addition, the company has sincerely cooperated with Touchofmodern.com, which is among the most famous group-buying websites in the United States.
The company's balls provide the players with a really enjoyable experience. All of them are made from great materials. To top it all, HolleyWeb.com promises to make every effort to create the best products for its customers. With rich experience in the industry, the company's designers have a good knowledge of user experience.
According to the company's chief executive officer, HolleyWeb.com is now working hard to offer more innovative designs. "We are proud to announce the new balls for worldwide people and cooperate with Touchofmodern.com. The fresh items are specially made for the global market. I hope you can enjoy playing them. In the coming weeks, we will release more exciting products."
Moreover, HolleyWeb.com has confidence in the cooperation. It is looking forward to a brighter future. The company often releases innovative products for people across the world. Those who are fond of balls are encouraged to visit the company's one stop website.
About HolleyWeb.com
HolleyWeb was founded in several years ago; the company is an outstanding supplier in the market. Its popular products include zorb balls,bubble soccer, Giga balls, water roller balls and so on. All the company's quality products are available at low rates, and they are promised to be quality items. Many clients enjoy shopping on its user-friendly website.
For more details, please visit: http://www.pinterest.com/Holleyweb_Zorb/ or https://www.touchofmodern.com/sales/holleyweb/glowing-zorb-ball