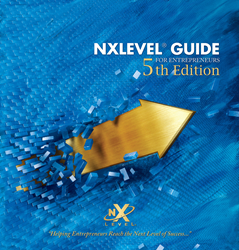 "Depending on which report you read, 1 in 5 Veterans is unemployed. This has to change," said Mike Finnerty, President and CEO of NxLeveL. "Our nation's Veterans are returning to civilian life facing a sluggish economy and high unemployment. Military life
SANDY, Utah (PRWEB) November 12, 2014
NxLeveL's network of entrepreneurial trainers celebrates their 20th year providing business development training. In celebration of this milestone, NxLeveL is launching an initiative to raise scholarship funds for Veterans. As the Veterans complete their NxLeveL Course and develop their businesses the end result is an increase in economic development. NxLeveL is asking for a show of appreciation from citizens who enjoy freedoms preserved by the efforts of Veterans through their donation to the NxLeveL's Veteran Scholarship Fund. http://www.nxlevel.org/veterans.htm
Many Veterans have issues transitioning from active duty to civilian life. According to a recent study conducted by USC School of Social Work, preparing for a job is one issue causing major problems for Vets. A recent edition of the Navy Times reported an unemployment rate among veterans of 8.1 percent compared to 6.1 percent among the general population for the same period.
The NxLeveL® Education Foundation is focusing their efforts to changing that disparity and improving prospects for Veterans by launching the NxLeveL's Veteran Scholarship Fund to help Veterans acclimate to civilian life by acquiring entrepreneurial skills. With the philosophy of, "Learn it tonight, use it tomorrow," NxLeveL® has become the premier entrepreneurial training program in the United States
NxLeveL is dedicated to educating people -- from those inspired to own their own business, to business owners committed to taking their business to the next level, which overall creates jobs and promotes economic development. Classes center on areas such as planning, marketing, business negotiations, an understanding of financial statements, and more. Each week, NxLeveL® attendees have the opportunity to listen to and question an array of guest speakers (lawyers, bankers, CPAs, successful entrepreneurs, etc.) who lend their expertise in special areas of business operations. Participants leave class with new critical thinking skills, which lead to key strategic actions in the development of their business practices.
NxLeveL has a network of certified instructors who teach NxLeveL courses offered through Small Business Development Centers, colleges and universities, in addition to collaborating with a variety of service and faith-based organizations across the nation. Courses range from 10 to 13 weeks with an average cost of $600.
"Depending on which report you read, 1 in 5 Veterans is unemployed. This has to change," said Mike Finnerty, President and CEO of NxLeveL. "Our nation's Veterans are returning to civilian life facing a challenging economy and employment opportunities. Military life fosters all the traits needed to be a successful entrepreneur – what our Veterans need most is a helping hand. Economic impact begins when one person with an idea becomes self-sufficient, reaches the next level of success, and begins hiring others. That is what NxLeveL is all about."
NxLeveL is seeking help through public support and donations. For more details or to make a donation please visit: http://www.nxlevel.org/veterans.htm.
Veterans who are interested in applying for a scholarship, please visit http://www.nxlevel.org/veterans.htm, follow the link to the application page.
For additional information regarding NxLeveL or NxLeveL's Veteran Scholarship Fund, please contact Donna Criswell, NxLeveL's National Marketing Director, via email at donna(at)nxlevel(dot)org or call 1-800-873-9378.
About NxLeveL;
NxLeveL® Education Foundation is a 501(c)3 founded in 1994 through a sponsorship by the US West Foundation. A portion of the initial investment, $500,000 funded five core programs. A team of 18 writers - unique individuals from a variety of disciplines including academics, entrepreneurship, and small business ownership who were tasked with creating a curriculum for business development and small business best practices. NxLeveL curriculum is updated on a regular basis to maintain content that is current and relative to current business demands.
Today, NxLeveL is the nation's largest and most effective entrepreneurial training network extending throughout all 50 states, as well as American Samoa, Puerto Rico and Canada.
For more information go to http://www.nxlevel.org/veterans.htm