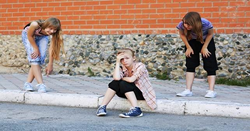 Children are choking themselves to death for a quick high; parents need to put an end to the Pass Out Challenge today.
London, UK (PRWEB) November 05, 2014
The sad news is that the pass out challenge has been happening between teens and youths since 1995, the even sadder news is that it is getting more momentum and strength with the advent of social media and online peer pressure. NoBullying discusses, in an article released today, the not so new fad of the "Pass Out Challenge" and what it is doing to teens every day.
Labeled the "Good Kid's" high, the pass out challenge is basically a teen being challenged by friends or peers to perform this game and once accepting one person will apply pressure to the other person's chest until they pass out and this is done by placing a knee on the chest, sitting on the chest or even standing on the chest of the person playing the game. This game has several different forms all promising the participant a euphoric high similar to heroin,meth, hash, ecstasy and other psychedelic drugs.
From a physical point of view, their concern stems from the amount of pressure needed to achieve a "high" which also changes the participant's heart rate and can cause serious damage to the ribcage and lungs. Doctors and health care professionals are also worried of another version of that pass out challenge that involves strangulation. Strangulation is achieved by either manual or ligature forms. In this version of the challenge the participants will choke themselves until they are almost at the point of passing out and then are to loosen the hold or ties producing a "high" from the lack of oxygen to the brain.
Children and teens are unaware of how quickly they can pass out and that the more they play the game the longer they will have to be strangled to achieve the desired high. Parents and caregivers need to be aware of the signs of their teen's playing this choking game regardless of them posting their trials online or not. Parents should be on the lookout for unexplained bruising around the neck or other body parts, these bruises can be from falling down as they pass out and hitting objects or from strangulation. Other signs include severe headaches, bloodshot eyes and disorientation.
Much like Neknomination, all social media networks are filled with videos and posts where teens are laughing while a mate or a friend is choking himself/herself for a quick cheap laugh.
It is increasingly important with social media, social networking, and the frequent use of the Internet by children and teens to discuss the dangers of this challenge with children and teens. It is important to remember while discussing this topic that these potential participants are not aware, or don't want to be aware, of the dangers of the game and therefore need to be educated. Yelling, over reacting or "preaching" may not be the best approach to the conversation.
Ciaran Connolly, Co Founder of NoBullying says "This is a game with a multitude of videos online encouraging teens to choke themselves for a 'high' like feeling. Children are choking themselves to death for a quick high; parents need to put an end to the Pass Out Challenge today."
He added that parents and teachers should make a point to educate the younger generations about the sad outcome of bullying online and offline. According to Connolly, it is quite imperative to press for more firm laws condemning all acts of bullying and harassment.
NoBullying.com features many pages dedicated to parents, teens, teachers, health professionals as well as posts related to cyber safety and the latest news about law making concerning curbing Bullying worldwide as well as inspirational Bullying Poems and famous Bullying Quotes.
The website regularly updates its bullying statistics and cyber bullying statistics as it is essential to understand how widespread the bullying epidemic is. It also regularly runs cyber bullying surveys and questionnaires to get recent updated statistics on everything related to cyberbullying.
He also added that anyone suffering from bullying in any form or way can always find advice and help on the NoBullying website – but if anyone is suffering from severe bullying or cyber bullying, the best thing is to talk to someone locally – a parent, teacher or local organization that has been set up to help with specialized councilors to deal with this topic.