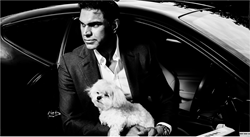 The words give up are not in my vocabulary. If you believe that you can in your mind you are already halfway there. When every action has a purpose, every action has a result.
Essex (PRWEB UK) 6 November 2014
Childsplay Clothing is the leading retailer of luxury designer wear for newborns to mid-teens.It offers the finest brands across the globe such as Gucci, Armani, Dolce & Gabbana, Burberry, Roberto Cavalli and many more in store and online that you'll be hard pushed to find anywhere else. Childsplay was launched back in the 1990s and came about when Nick Bassi realised there was an obvious gap in the market for luxury children's wear, which inspired him, his previous partner Mandie and his younger brother Jesse to make their debut into the industry. Here we talk to Nick and find out all the juicy details.
What are the future plans for Childsplay Clothing? Any new launches, collaborations or new offices?
We have plans to become the leading e-tailer of luxury children's fashion in the world. We're in the middle of redesigning our website, which will encompass cutting-edge technology and still maintain a smooth and friendly click-through experience for our customers. As well as this, we're also opening offices in the Middle East in partnership with Hamleys and Oscar de la Renta. Similar plans are currently being discussed for Russia and the Far East. As for Europe, in Germany we've partnered with Verona Feldbusch to open Childsplay Clothing.de, which will be launching in Spring 2015. We're also currently experiencing continuous growth in the UK and have taken over Liverpool Fashion Week. Furthermore, we've been discussing the possibility of working with all the young finalists on The X Factor. As if we could fit any more in, we're even launching a children's swimwear range this autumn with Elizabeth Hurley.
How many staff members are there to date, including worldwide following the opening of Dubai and Russia?
Our staff numbers are growing all the time. Due to the rapid expansion of the company within the last few years the team has been increasing on a monthly basis. In terms of Russia and the Middle East, we intend to begin with small teams and hopefully expand over time.
Was it always a dream of yours to create the global empire that Childsplay Clothing has become?
We've always had extreme passion for the business and what we're doing here, and our belief is that if we're going to do something we either give it 100% or nothing at all. Our vision is simply to create a company that will provide our customers in the UK and worldwide with the ultimate shopping experience.
What's been your toughest challenge?
My toughest challenge to date has probably been licensing and partnering with all of our brands. That's been a lengthy process over the years for global brands to recognise us and understand how serious we are about our business.
Was there ever a time when it all got too much and you felt like giving up?
The words 'give up' are not in my vocabulary. If you believe that you can in your mind you are already halfway there. When every action has a purpose, every action has a result.
You're about to embark on a behind the scenes look at the company, a documentary for ITV. How did that come about and what will the show entail?
Are there any fab exclusives on what we can look forward to? We were approached by ITV about a year ago to do the show. It wasn't an easy decision but we felt that after so many years of trading it was just time to show the public what really happens behind the scenes. The show will entail a sneak peek into the workings of the company and the customer relationships we've built up over the years. The documentary will also include some VIP shopping experiences with celebrities as well as fab exclusives of catwalk shows from Milan, the world's fashion capital.
When's it going to air?
The show is going to be part of a six part series and will be one of the anchors for ITV's new channel 'ITV BE' which will be launched this autumn.
What impression of the company and your family do you hope the show will give viewers?
We hope it gives an insight into the world we live in and the hard work and passion we share. The show will highlight the fun and humorous side of the team, as well as the dedication we have to providing the best service for all of our customers in the UK and around the world.