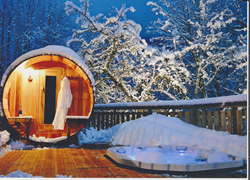 (PRWEB UK) 6 November 2014
British and Irish Spa and Hot Tub Association (BISHTA) is providing a "tip sheet" for shoppers to consider buying a hot tub this holiday season.
Inspiration for a gift that just keeps giving!
This year, treat loved ones to a gift they really will be able to use all year long. A hot tub is the perfect luxury pamper gift that can be tailored to suit all budgets and tastes.
Whether entertaining guests at parties, relaxing outside on a summer's evening or enjoying a romantic snowy winter's day – a hot tub is a gift that keeps giving throughout the year.
Get inspired by the 2014 BISHTA award winning hot tubs, with peace of mind from buying from a reputable supplier who is BISHTA accredited. Click here to
view Album
The bonus is hot tubs can bring a whole host of health benefits as well as providing a great new social aspect to home life.

A hot tub is a great place to enjoy social activities, such as spending time with friends or getting together with the family.
Choose the size of the hot tub from two or up to ten people capacity.
A hot tub can be enjoyed in all seasons: from a summer BBQ party to a winter get together, being enveloped in the hot water against the cold winter is excellent.
With the rush of modern life, a hot tub has also become a place for families to enjoy a catch up and unwind after a long day at work.
With extras such as lights, sound systems and other gadgets that could be installed along with the new hot tub.
To view the 2014 award winners video, click here.
If a hot tub is on the shopping list, there will be warm steamy bubbles to relax in through Christmas, into the New Year and beyond, plus hours of enjoyment for family, friends and any guests being entertained over the seasonal period.
BISHTA recommends that consumers buy hot tubs from accredited BISHTA members, who are able to give detailed advice about the use of water treatment products and the upkeep of the hot tub, as well as provide peace of mind in buying from a reputable supplier. BISHTA is the trade association for hot tubs and spas, which ensure contractors and suppliers, meet industry standards to make usage safe.
For further information on BISHTA visit http://www.bishta.co.uk, and get your Christmas shopping all wrapped up!