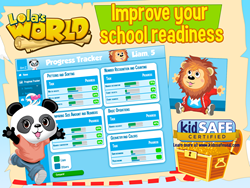 Lola's World is a child safe service and has received the KidSAFE seal of approval.
Tampere, Finland (PRWEB) November 11, 2014
Lola Panda® is looking to expand her world, as well as young kids' minds. BeiZ, the company that has introduced all of the Lola Panda apps, introduced Lola's World today.
Lola's World is a fun and engaging way to improve school readiness for children, ages three to five years old. Parents are able to easily monitor their child's improvement with a progress tracker. Lola's World provides hundreds of hours of educational and entertaining content designed by top educators in the US and Europe. The application has been designed so that it develops with the child – there is no need to choose areas or decide what level to play. The application adjusts automatically and rotates tasks in a child-friendly and logical way.
The comprehensive application includes 31 different educational mini-games with dozens of variations to develop essential skills. Just-for-fun activities, paired with cognitive tasks, create the perfect balance to keep kids entertained and still learning.
Improve the child's school readiness while adventuring from island to island. Choose a favorite avatar and hop on the air ship! Lola will guide the child on a treasure hunt to explore beautiful islands with beaches, jungles and mountains. Solve tasks to discover map pieces one-by-one and finally get ready to dig up a treasure chest with golden coins.
The Lola's World application focuses on the first stages of math by teaching a child:

Measurement: Size, amounts and number comparisons
Patterns & Sorting: Match groups and amounts or comparing objects
Counting & Numbers: Number recognition and counting objects and numbers
Basic Operations: Addition with numbers and objects or number sequencing
Geometry & Colors: Recognize shapes and colors or build puzzles
"Kids really love this app," says Mika Heikinheimo, CEO of BeiZ. "And parents are happy when children learn with proven educational methods while still having fun."
Lola's World is a subscription-based service app, setting it apart from previous Lola Panda apps. It is free to download and there is no limit to the free use. However, parents looking for premium features or more challenging tasks can choose to subscribe to the monthly service. The subscription service brings new content every month, ensuring that children will enjoy new and exciting challenges and fun features regularly.
1-month, 3-month and 12-month subscription packages are available for access to all of Lola's World features. The subscription opens all VIP features, such as: more personalization with toys, clothes, food and all avatars. The subscription also gives access to the full range of tasks and opens a parental section with a full progress tracker.
Lola's World is available in the Apple App Store: https://itunes.apple.com/app/id849576431
Product is available in North America, United Kingdom, Australia, New Zealand, South Africa, and Finland. Other countries and other platforms will follow soon.
Media Kit Available at: http://www.beiz.com/dataserv/lolas-world1.html