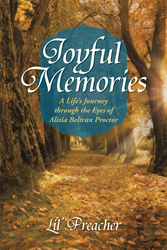 a unique perspective on the value of genealogy, as it highlights the impacts of change, education and persistence across generations
LOS ANGELES (PRWEB) November 06, 2014
Has modern society lost the importance of recording family history?
For Alisia Proctor, author of "Joyful Memories: A Life's Journey Through the Eyes of Alisia Beltran Proctor," appreciating the past leads to a more meaningful future. In her book, she tells the story of her family immigrating to the United States from Mexico in hopes of pursuing their American dream. Proctor provides a unique perspective on the value of genealogy, as it highlights the impacts of change, education and persistence across generations.
"When I realized that I was the last of my siblings, I decided to start writing the story of my family history all the way back to the late 1800s," Proctor said. "By recording my family history, I hope to encourage others to do the same and appreciate the challenges of their ancestors."
Following the family through significant events in history, like the Great Depression and World War II, to starting a business and pursing a higher education, Proctor's inspirational memoir describes how multiple generations of her family overcame adversity through dedication and perseverance.
"Joyful Memories" documents one family's journey over decades and readers can learn from the struggles, strides and successes while relating them to personal experiences.
For more information, visit bookstore.liferichpublishing.com.
"Joyful Memories: A Life's Journey Through the Eyes of Alisia Beltran Proctor"
By Alisia Proctor
ISBN: 9781489701855
Available in softcover and e-book
Available on Amazon, Barnes & Noble and LifeRich Publishing
About the author
Alisia Proctor is an associate pastor at Park Vista Baptist Church in Los Angeles and volunteers as a chaplain for the Los Angeles County Sheriff's Department. She received her master's degree in Pastoral Studies at 70 years old.
# # #