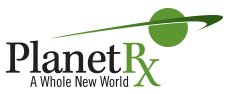 Lakeland, FL (PRWEB) November 05, 2014
PlanetRx, the e-commerce retailer dedicated to helping consumers live healthier lives, today announced a public relations campaign aimed at highlighting the revival of its brand name.
"My hope is PlanetRx will be seen as a brand that can pick itself up and find favor with consumers because of our commitment to the customer experience and to quality," said Ryan Flynn, Product and Strategy Manager for PlanetRx.
"Brands that had once been big but suffered because of the sluggish economy or other woes are revamping themselves," Flynn said. "A second chance is something to celebrate. We can be proud and even confident that we will make this change."
PlanetRx has brought a renewed focus to the customer experience on its website. The PlanetRx team has spent the last year improving customer service by building a more personalized and responsive user interface. Everything from the platform that runs the e-commerce, to the site design, to the product choices are all rooted in what customers want in their healthcare product buying experience. Listening to feedback from existing customers who may have experienced problems on the old platform and from new customers has helped to shape the new site.
Monique Vargas, the lead customer service representative, notes, "There have been zero returns since the re-launch [of the new PlanetRx.com]." A statistic the new team is proud to underscore.
A new focus requires the commitment of the entire staff, from upper management to the customer service team. Conscientious planning with all the team members, including the programmers and designers, have helped to build a thoroughly modern and reliable site that will keep customers returning.
"We are bringing the big name back to life, and want PlanetRx to be a favored choice for consumers," said Flynn.
In addition to the technical, visual, and process improvements that aim to revive the PlanetRx brand the team keeps an overarching goal in mind to promote healthier, fuller lives for all their returning and new customers.
About PlanetRx
PlanetRx is an e-commerce website dedicated to helping consumers lead healthier, fuller lives by providing a wide range of high quality, over-the-counter healthcare products. By aiming to enrich our customers' lives in fundamental ways our team is committed to serving our customers and promoting healthy living and social and corporate responsibility. To learn more please visit http://www.PlanetRx.com.
Contacts
Ryan Flynn, 888.479.2000
RFlynn(at)welldynerx(dot)com
Monique Vargas, 855.748.2657
MVargas(at)planetrx(dot)com