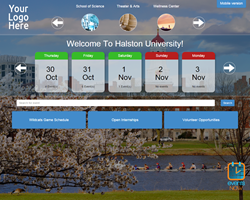 "This software will connect everyone across campus, and it doesn't have to be viewed only on your kiosks; it's compatible with mobile devices, " said Advanced Kiosks president and owner Howard Horn.
Franklin, NH (PRWEB) November 12, 2014
Academic silos are today's norm. Every department, every unit is booked solid. The College of Fine Arts can't be expected to know what the Athletics Department is doing. The admissions office can't keep tabs on the med school. And who knows what all those extracurricular clubs and organizations have going on?
But what about the undecided student, the visiting prospective students and their families, or the community member looking for a fun night out? How can they see the hundreds of options a campus affords them?
Advanced Kiosks, one of the world's largest producers and innovators of self-service kiosks, has the answer. EventsNOW is a brand new, easy-to-use web application that aggregates event information across even the largest universities. It quickly shows the public the depth and breadth of all an organization has to offer. Admissions offices can easily add a link to their universities' EventsNOW calendar page to outgoing emails, allowing prospective students to peruse all on-campus events.
EventsNOW runs on any Advanced Kiosks' model and does not require management software, but the real beauty of the application is how it unifies a campus without creating more work for anyone. Universities can sync as many calendars as they want, but each calendar remains owned and updated by its authoring unit. EventsNOW integrates all the calendars into an attractive, user-friendly interface to be browsed by date and/or department. Kiosk users can quickly and easily page through all events or search by keyword. Each event listing features a description and contact information. EventsNOW encourages students to break out of their comfort zones, exploring and engaging in different areas of campus life. The improved publicity can increase attendance at all kinds of university events.
EventsNOW uses iCalendar protocol, the calendar data exchange standard. That means it is compatible with the popular calendar systems campus communities are already using. Department chairs, coaches and faculty advisors simply plug the public URL from their Windows, Apple, Google, or Yahoo Calendar (just to name a few) into EventsNOW, sit back and let it sync automatically with their institution-wide event repository.
"We designed EventsNOW at the request of several of our higher education customers," says Advanced Kiosks president and owner Howard Horn. "This software will connect everyone across campus, and it doesn't have to be viewed only on your kiosks; it's compatible with mobile devices. Smartphone-dependent students will love having instant access to every campus offering."
Lone Star College System is already using EventsNOW on their Freestanding Kiosks, which have also been equipped with Advanced Kiosks' new cell phone charging trays. Students can explore campus events and volunteer opportunities while waiting for their phones to charge.
EventsNOW customers will want to maximize its benefits by using the software in conjunction with Advanced Kiosks' many hardware and software options. For example, integrating EventsNOW with the virtual Lobby Attendant will give folks directions to event locales or even allow them to contact the event coordinator. Adding a printer enables users to print nametags, registration forms or just helpful, take-home reminders of upcoming programming. The possibilities are endless!
Advanced Kiosks recently released a demo of everything EventsNOW has to offer.
About Advanced Kiosks:
Advanced Kiosks is a premier supplier of state-of-the-art computer kiosks, providing interactive turnkey solutions designed, engineered, manufactured and supported right here in the United States. Advanced Kiosks has many off-the-shelf, self-service kiosk designs and can also create custom-built hardware with fully customizable software for the most personalized self-service kiosk experience possible. Advanced Kiosks' commitment to quality and service is unparalleled and backed by an unmatched three year, end-to-end warranty.