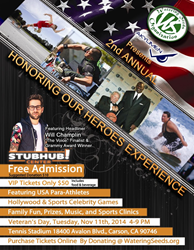 Watering Seeds is a spiritual metaphor for seeing beyond self to help others grow... Consequently, you reap what you sow!
Los Angeles, CA (PRWEB) November 06, 2014
Formerly the Home Depot Center, home of the LA Galaxy, the StubHub! Center has teamed up with Watering Seeds Organization (WSO), http://www.wateringseeds.org, AkyumenTechnologies, Dominos Pizza, Coca-Cola, and the city of Carson, with the full support of Mayor Jim Dear, to present the Second Annual "Honoring Our Heroes Experience," a day of celebration to recognize and support our wounded warriors, their families, and unsung military and civilian sports heroes.
On Veterans Day 2014, former National Vietnam Veteran of the Year, "Mr. Inspiration," Bob Wieland, http://www.bobwieland.com, will be hosting the day of family festivities alongside Hollywood stuntman, speaker, mentor, and reality TV show host, Sammy Maloof.
Headlining the event will be NBC's The Voice Finalist and Grammy Award winner Will Champlin, http://www.willchamplin.com, performing music from his hit album, "Borrowing Trouble."
Watering Seeds Organization (WSO), is a 501(c)(3) non-profit organization founded by Brady Mazzola to create sports rehabilitation and recreational opportunities for individuals with special needs. WSO is dedicated to empowering our youth, wounded warriors, and challenged civilian communities through education, media, inspirational sports programs, and live entertainment events.
"This exciting family entertainment event is an opportunity to highlight the spirit, heart, character, and courage of America's unsung heroes who have made the ultimate sacrifice for our freedom as well as a chance to demonstrate how you can water the seeds of those with special needs." -Brady Mazzola
We invite you to join us on Veterans Day, November 11th, for a celebration of life in America, with food, fun, sports and entertainment. This is a FREE event, however donations are encouraged. All proceeds will be distributed to Watering Seeds for the Carson Veterans' Resource Center and affiliated wounded warrior and challenged civilian programs. Pricing and packages are as follows:

General admission - FREE
VIP Tickets - $50 (includes food and beverage with red carpet access)
*Custom sponsor packages available upon request. Please contact WSO for details by phone at (818) 936-3476 or by email at info(at)wateringseeds(dot)org
Event Details:
Date: Tuesday, November 11, 2014
Time: 4pm – 9pm
Location: StubHub! Center (Tennis Stadium)
18400 Avalon Blvd.
Carson, CA 90746
~More~
An evening that is sure to inspire and not to disappoint, come out for a once-in-a-lifetime opportunity to meet, greet, and honor real heroes and celebrity guests. WSO would like to thank its contributing sponsors and partners: Sports For Life, Kayo Anderson Media, Winning at the Race of Life, Reel Life Productions, Veterans Supplemental Support Network (VSSN), Stauros Entertainment, Nabors Industries, Two Guys Grilling, All Access Staging, F-Tennis Academy, West Coast Dreamers, Red Carpet Connections, Kathy Brown Events, Bai5, Core Power, Modere, Fueled By The Fallen, EZ Way Broadcasting, Cyber Space Media, Core Power, Heroes 4 Life, DAMA Tequila, LA Unified School District, and many more.