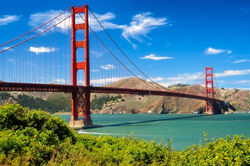 San Francisco was among the most expensive dark blue metros
Chicago, IL (PRWEB) November 05, 2014
The Federal Savings Bank was intrigued that although the terms blue and red states are related to political elections, they have some implications for the housing market.
Red and blue markets were both hit hard during the housing crisis but have recovered in different manners, particularly in regard to home prices, according to a report from Trulia on October 27th. Based on results from the 2012 presidential election race between Republican nominee Mitt Romney and President Barack Obama, Trulia examined the 100-largest metro areas, classifying them as red, light blue (less than 20 percent margin in favor of Obama) and dark blue (more than 20 percent margin).
The report revealed dark blue markets had the highest home prices during the 2012 election, with a median asking price of $227 per square foot. Light blue markets had a median of $143 per square foot, while red markets came in at $119 per square foot.
San Francisco was among the most expensive dark blue metros, which isn't surprising given the city has some of the highest home prices in the country. Recently, CityLab posted released titled "How Many Houses Can You Buy in Other Cities for the Price of One in Silicon Valley?" showing a list of median sale prices for different metros in the second quarter of 2014 using data from the National Association of Realtors, and San Francisco had the second-highest median price of $769,600.
Trulia noted the price differences between red and blue markets don't indicate Democrats are responsible for lower homeownership rates, greater inequality or unaffordable housing. However, these disparities show political leaders in these markets have different approaches to policies.
"Furthermore, these local differences in home prices mean that some national housing policies favor red markets and others blue markets," Trulia said. "For instance, the current system of conforming loan limits benefits red markets more because homes in those markets are likelier to fall within local loan limits."
Whether you're in a blue or red state, contact the Federal Savings Bank, a veteran owned bank, to get information about affordable mortgages.