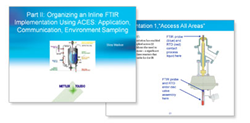 This real time, continuous data collection of reaction-specific information can help ensure processes are compliant, profitable and safe.
(PRWEB) November 10, 2014
METTLER TOLEDO is pleased to announce a two part webinar series focusing on process FTIR implementation. Part 1 is Implementing In Situ Process FTIR in a Plant Environment and Part II is 4 Guidelines For Inline FTIR Process Analytical Technology Implementation. During these presentations, you will learn about an in situ FTIR installation protocol called ACES—Application, Communication, Environment, and Sampling—can help you gain FTIR'S ability to monitor reactions in real time. This real time, continuous data collection of reaction-specific information can help ensure processes are compliant, profitable and safe.
Placement of an in situ FTIR analyzer into a manufacturing plant requires more effort than in the laboratory. Obstacles such as outdoor use, corrosive environment, lack of reference analytical method, and limited understanding of the process stream composition and its physical properties can add layers of complexity to the task.
This brief, two-part webinar address the areas mentioned above and can help you to ensure success the first time through. Part I focuses on Application and Communication. Application looks at using real-time FTIR spectra to obtain valuable chemical qualitative and/or quantitative information for each critical process parameter. Communication explores the tasks associated with bringing data from the field analyzer located in a Hazardous Location (Haz Loc) to the safe area for accessibility to a plant's distributed control system.
Part II covers Environment and Sampling. Environment focuses on maintaining an operable internal analyzer temperature range as well as optimizing instrument location and corresponding environment considerations. Sampling reviews the appropriate probe and sensor technologies required for successful process analytical technology implementation. The ability to gain fresh data on a fixed interval in real time and the ability to operate process reactors under more aggressive conditions makes the implementation worthwhile. You can gain the benefits of real-time process monitoring at plant scale and maximize installation and process success.
About METTLER TOLEDO
METTLER TOLEDO provides the enabling technology, software and people that can help build a seamless workflow to translate bench scale chemistry into a commercial process. For more than 20 years, our enabling tools and services have been a strategic resource providing critical information for thousands of development scientists and engineers. Companies have used that knowledge to accelerate the discovery, development and scale-up of new chemical processes spanning the chemical and biopharmaceutical industries. For more, visit http://www.mt.com.