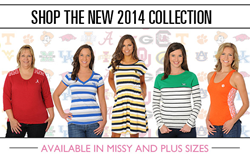 Add a quotableUG Apparel maintains the idea that cute trendy fashion should be for every woman
Chicago, Il (PRWEB) November 07, 2014
Photoshop and airbrushing are tools the fashion world uses to set the absolute standard of beauty, a standard only attainable through spending hours behind the computer. Fortunately this idea of beauty is changing with companies such as University Girls Apparel (UG Apparel) leading the way.
UG Apparel is an all women's collegiate clothing brand. They are dedicated to bringing fashion to real women who wear real sizes. UG Apparel uses models that properly fit into their missy and plus sizes, and does not Photoshop their bodies. For UG Apparel, it would go against what they stand for and strive to bring into the fashion world.
UG Apparel's owner, Nesha Sanghavi has come up with her own unique sizing chart, which accurately fits her customers. UG Apparel maintains the idea that cute trendy fashion should be for every woman, and they bring exactly that to every female fan. For more about UG Apparel's sizing and stores, visit UGapparel.com.