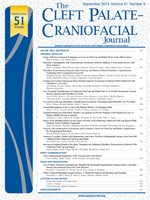 The review found that the deformities improved somewhat among all the children, even those who were not placed in helmets.
(PRWEB) November 06, 2014
The Cleft Palate–Craniofacial Journal – The head of a healthy newborn has soft spots and sutures that allow the skull to grow and change shape over the first year—sometimes abnormally due to external forces. The medical community is divided on whether an infant's asymmetrical head shape should be treated, and if so, what is the best treatment for deformed infant skulls.
The authors of an article published in the current issue of The Cleft Palate–Craniofacial Journal observed children with similarly misshapen skulls to determine whether the skull shape improved without the use of a protective molding helmet. To examine the effects of the molding helmet, the authors evaluated skull and facial changes using specially developed software that produces three-dimensional images of an infant's head.
Cranial deformity is an undesirable yet common consequence of efforts to prevent sudden infant death syndrome (SIDS). If caretakers lay infants down on their backs every time they are placed in a crib to sleep, an infant's skull tends to flatten at the back. Although an oddly shaped skull often becomes more symmetrical as the infant grows, the number of cranial deformities has jumped in recent years as more parents have become concerned about SIDS.
This study compared three-dimensional photo scans taken 6 months apart for 80 children with mildly to moderately deformed skulls. Although all of the children had been seen at the University Hospital Giessen in Germany, only 40 of them had been placed in molding helmets in an effort to adjust their skull shape. The study did not include children with severely deformed heads.
The review found that the deformities improved somewhat among all the children, even those who were not placed in helmets. Using several methods of measurement, the authors determined that the improvement was slightly greater among the children who wore helmets than among those who did not. However, they were surprised to find that the difference was not significant.
The authors concluded that helmet therapy may be less appropriate for reshaping short, broad skulls than for changing uneven skulls. Helmet therapy can be expensive, and the lack of significant improvement revealed by their study did not appear to justify the cost in mild to moderate cases.
Full text of the article "Nonsynostotic cranial deformity: A six-month matched-pair photogrammetric comparison of treated and untreated infants," The Cleft Palate–Craniofacial Journal, Vol. 51, No. 6, 2014, is now available at http://cpcjournal.org/doi/full/10.1597/13-010.
###
About The Cleft Palate–Craniofacial Journal
The Cleft Palate–Craniofacial Journal is an international, interdisciplinary journal reporting on clinical and research activities in cleft lip/palate and other craniofacial anomalies, together with research in related laboratory sciences. It is the official publication of the American Cleft Palate–Craniofacial Association (ACPA). For more information, visit http://www.acpa-cpf.org/.