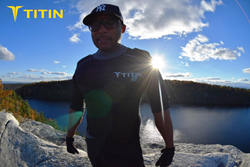 The concept and execution of TITIN is brilliant and together we will make TITIN a global brand.
Atlanta, GA (PRWEB) November 06, 2014
TITIN CEO and Founder Patrick Whaley knew that his patented weighted compression gear would revolutionize how people worked out and rehabbed injuries but he simply needed someone with apparel, technology and branding experience to help take the company into the future – Shark Tank's Daymond John was a natural fit.
Compression gear in various forms exists, but nothing is advanced as TITIN. TITIN is weighted compression gear designed with proprietary hydro-gel inserts that fit perfectly into the work out apparel. This design not only improves efficiencies of athletic workouts but it also helps prevent injuries.
The inserts are strategically designed to lay across major muscle groups as the compression – anti microbial fabric holds the gel packs tight to the body, eliminating shifting weights during even the most rigorous workouts. Alternatively, the gels can be frozen or heated and used in therapy or aiding in recovery.
Whaley studied mechanical engineering at Georgia Tech but began developing TITIN in high school. Today, TITIN is used by professional and amateur athletes, everyday workout enthusiasts, the military and police across the country.
"I've had my own personal negative experiences with weighted training gear currently on the market. The concept and execution of TITIN is brilliant and together we will make TITIN a global brand," said John of his reason for making the deal.
About TITIN Tech
Founded in 2010, TITIN has created a patented line of weighted compression gear using flexible gel weights to work your muscles without interfering with your joints. You can move naturally throughout workouts with a full range of motion. TITIN's dynamic eight-pound system isolates your fast-twitch muscle fibers for increased fiber recruitment helping you run faster and jump higher. To purchase TITIN products visit http://www.TITINtech.com.