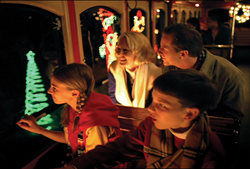 Sharing the joy of the holiday season often means finding fun in small doses.
Tampa, Florida (PRWEB) November 07, 2014
The magic of the 2014 holiday season is set to sparkle across the country with Christmas light displays offering countless memory making possibilities. From miles of lights along the Boardwalk on Virginia Beach to the magic of Winterfest in Pigeon Forge, celebrating is in the air. The newest additions to the Santa Trans & Holiday Lights vacation planning folder reveal ways to share the best holiday lights with children.
"For families, time together is a very precious commodity and during the holiday season a night filled with twinkling lights has the potential to mean more than any material gift. There is never a wrong size when it comes to sharing time with family," says Nancy Nelson-Duac, Curator of the Good Stuff for theFamilyTravelFiles.com a popular family travel planning website.
Sharing the joy of the holiday season often means finding fun in small doses. An assortment of mini holiday adventures along with the locations of terrific Christmas light displays may be found in the folder dubbed Santa Trains & Holiday Lights. The comprehensive folder is a valuable vacation planning resource featuring suggestions for family fun during the holiday season including magical "Polar Express" adventures, and Santa trains, plus destinations with yuletide traditions and the best holiday lights.
The newest additions embrace the season with positive energy delivering fun for families.
1. Festival of Lights in Riverside, California with Cupcakes, and Ice Skating.
2. Whistle Stop Christmas Lights in Cleburne, Texas with Holiday Music and Train Whistle Blowing.
3. Lights on the Lake in Syracuse, New York with Land of Oz Lights and Fairytale Magic.
4. Bull Run Festival of Lights in Virginia with S'mores and Camel Rides.
5. Christmas at Biltmore in North Carolina with Santa and Sugarplum Fairies.
6. Bentleyville Tour of Lights in Minnesota with Flying Pterodactyls and Free Popcorn.
7. The Gift of Lights at Christmas Ranch in Ohio with Reindeer Express and Santa's Snow Wagon.
8. ZooLights at Lincoln Park Zoo in Chicago with 3-D Fun, and Animal Encounters.
9. Hershey Sweet Lights! in Pennsylvania with Twilight Express and Candylane.
10. Oglebay's Winter Festival of Lights in West Virginia with Twinkling Snowflakes and a Christmas Tree Garden.
11. Zoo Lights at Reid Park in Tucson with Jingle Bells and Falling Snow.
12. Leavenworth Christmas Village of Lights in Washington with Caroling and S'more by Firelight.
More details about the best holiday lights in the U.S. may be viewed by selecting the "Santa Trains & Holiday Lights" folder located on the homepage and for even more suggestions view "Away for the Holidays" – the place to find great vacation ideas. For the latest family travel news follow The Family Travel Files on Twitter (@FamTravelFiles).
About theFamilyTravelFiles.com
theFamilyTravelFiles.com is one of America's top-rated online family travel planning resources offering more than 1000 pages of timely family vacation ideas. To assist in narrowing searches, colorful lifestyle, vacation planning folders group ideas. Popular folder choices: All Inclusive Resorts, Beaches and Water Spots, Camp Out, City Takes – Urban Vacations, Reunions, Secret Places, and Snow Places.