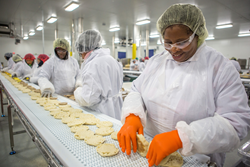 Demand is growing faster than anticipated and we're projecting solid growth into 2015
Columbus, OH (PRWEB) November 10, 2014
SK Food Group announces its new manufacturing facility in Franklin County is now fully operational and will exceed the initial job creation estimates. Originally, the company projected hiring 250 employees. SK Food Group now anticipates hiring more than 400 employees by year's end.
"Demand is growing faster than anticipated and we're projecting solid growth into 2015," states Steve Sposari, president and CEO of SK Food Group. "We appreciate the support we received from both state and local officials and couldn't be happier with our choice to open our new facility in Columbus."
"SK Food Group is a dynamic company that we're proud to have in the Columbus Region," said Matt McQuade, director of business development at Columbus 2020. "Central Ohio's strength in manufacturing and prime access to eastern U.S. markets provides a platform for the company's continued growth. We congratulate SK Food Group on their success."
Plant Selected As Pilot Site For Hiring Program; Training The Next Generation
The new plant was also chosen to be the first demonstration project site for LeadersUp, a national organization committed to closing the talent-divide between employers and untapped potential of young adults. The LeadersUp program is being administered locally by workforce partner, Central Ohio Workforce Investment Corporation (COWIC). As part of the pilot program, SK Food Group has committed to filling 10-15 percent of all entry-level positions by youth participating in this innovative job training program.
"The young adults we've recruited have proven to be exceptional additions to our Ohio team. They show promising leadership capabilities and will help us meet our growing workforce needs," said Sposari. Already, several of the employees in this program have been promoted. "It's a win for employers who need a highly trained workforce and for younger workers looking for meaningful employment," states Sposari.
"Steve Sposari represents the forward-thinking business leadership we want to engage with across the country in helping to close the talent-divide," said Jeffery Wallace, executive director of LeadersUp. "SK Food Group's continuous growth in Columbus proves that businesses are successful when they invest in cultivating talent from the local communities they operate in."
About the Plant
The state-of-the-art 180,000 square foot certified food assembly facility has 18 production lines and located at 3301 Toy Road in Groveport OH. It was designed by leading food and technology experts with the goal of achieving SQF3000 Level 3 certification by December 2014.
The facility features coolers, freezers, dry storage and multiple docking bays. The plant produces a wide range of custom private label foods including frozen breakfast sandwiches, wraps and prime Angus burgers. The plant also has several energy savings features including: motion controlled lights, a large recycling program and ongoing initiatives aimed at reducing product packing.
About SK Food Group
Founded in 1943, SK Food Group is a North American food manufacturing and assembly organization serving restaurants, foodservice operators, and other retailers.Their delicious on-the-go products feature everything from custom-made sandwiches and wraps to chargrilled chicken and Angus burger entrees.The company's diverse world-class products are sold in cafés, grocery stores and convenience stores. SK Food Group's R&D facility and culinary capabilities offer Private Label clients a high level of product customization, consistency and quality.
SK Food Group is headquartered in Seattle, Washington and operates two manufacturing facilities in the US (Reno, NV and Columbus, OH) and two in Canada (Edmonton, AB and Laval, QC). The company employs nearly 800 associates worldwide. Visit http://www.SKFoodgroup.com
###