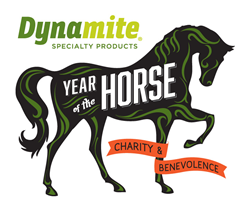 "People who buy our products are passionate about their animals and about making the world a better place," said Callie Novak, Dynamite's CEO.
Meridian, ID (PRWEB) November 07, 2014
Dynamite Specialty Products donated $5649.25 to Blue Star Equiculture of Palmer, Massachusetts as part of Dynamite's Year of the Horse Project. Dynamite's Year of the Horse Project was set up as a way to give back to horse rescues to celebrate the work that they do during 2014–the Chinese year of the horse. The tireless work of horse rescues directly ties into Dynamite's vision – to improve the lives of all creatures. The Year of the Horse funds are accumulated through company donations through product sales as well as other various means including a cash donation matching program, and product sponsorship for individual horses. So far Dynamite has donated over $20,000 this year.
For the third quarter of the Year of the Horse Project, August 1 through October 31, Dynamite donated 5% of all sales of their equine foundation supplement, TNT™. On top of that, Dynamite also did a cash donation matching funds program. "People who buy our products are passionate about their animals and about making the world a better place," said Callie Novak, Dynamite's CEO. "We attract people who are driven by projects that help animals, improve soil, save lives and make the world a better place."
Dynamite started its Year of the Horse Project in early 2014 with a call for its distributors and customers to nominate their favorite horse rescues. The initial call for nominations generated over 110 entries. The number of nominations and the passion that was behind each nomination made the decision a difficult one for each quarter. Blue Star Equiculture was a highly nominated selection with a special focus on large breed horses.
In their own words, "Blue Star Equiculture is a vision born out of the hearts of like-minded individuals who feel the need to respond to the current, increasingly dire situation facing homeless horses, especially working draft horses. Blue Star Equiculture is a working horse rescue and sanctuary committed to helping horses, humans and Mother Earth. In concert with the community, they help working horses live out their days in comfort and dignity and help humans connect with, care for, and be better partners to horses and Mother Earth."
Blue Star Equiculture's mission is to provide retired and homeless working horses a sanctuary, the opportunity to be useful and positively improve their lives, while bringing education, equine awareness, skills and healing to the community and the environment. They are a sustainable, productive, organic farm powered by horses and humans. They also provide workshops on organic land care that are open to the community. Blue Star researches and promotes history in conjunction with local historical societies and offers horse-drawn tours, increasing awareness of our rich past and the value of our lives with horses. Overall, they want to reconnect people with horses and the earth.
A family-owned company based near Boise, Idaho, Dynamite has been manufacturing and distributing nutritional supplements for all living creatures for 30 years. Their steadfast approach of innovation guided by nature, backed by science has earned them nationwide recognition and familiarity. All walks of life from humans to horses and the soil they graze upon can be supplemented by the wide array of Dynamite products. Dynamite has a long tradition of making charitable contributions.
Dynamite uses only natural ingredients, made in the United States for better quality control. Throughout its history, it has always looked at alternatives to animal by‐products, antibiotics, chemical preservatives, fumigants, artificial coloring and other additives that have later caused health problems.
Dynamite dog food, horse feed, vitamins and nutritional supplements, and other products are available through more than 4,000 individual distributors across the country.
Dynamite's Year of the Horse Project will run through the end of 2014. Dynamite's first quarter Year of the Horse funds recipient was RVR Horse Rescue of Riverview, Florida. Their second quarter recipient was Strawberry Mountain Mustang Rescue and Rehabilitation Center in Roseburg, Oregon and their fourth and final recipient will be Shiloh Acres Horse Rescue in Ault, Colorado.
For more information on Dynamite, or to order products visit http://www.dynamitespecialty.com or call their customer service team at 800-697-7434.