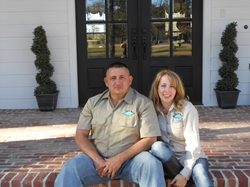 "The common theme we hear from our vet franchisees is 'I want to own my own business and don't want to sit at a desk', " said Kevin Wilson, President & CEO of the Mosquito Joe franchise.
Portsmouth, NH (PRWEB) November 06, 2014
The Veterans & Franchising 2014 special report, released this week by research firm Franchise Business Review, narrows down the vast array of franchise opportunities available to military veterans by highlighting the 100 franchise companies rated highest in franchisee satisfaction by military veterans who were surveyed. Franchise Business Review's research looked at survey feedback from over 3,500 military veterans who are current franchise owners. The national study included over 350 leading franchise companies, and the resulting list of Top 100 franchises was based exclusively on franchisee satisfaction among veteran franchise owners.
Military veterans are 45 percent more likely to take the plunge into entrepreneurship than people with no active-duty military experience according to the U.S. Small Business Administration (SBA) Office of Advocacy. Hundreds of franchisors have realized this and are offering military veterans incentives and discounts to invest in their franchises as a result. Not all are a good fit for vets, so it is crucial that they do their due diligence prior to signing a franchise agreement.
In addition to featuring the top ranked franchises for vets by vets, the Franchise Business Review Veterans & Franchising 2014 report offers veterans a glimpse of what it is like to own a franchise. Findings include:

Franchise ownership satisfaction is high. 78% of the franchise owners surveyed said they would become a franchise owner all over again. 79% (up from 74% in 2013) said they would recommend their franchise brand to someone else.
Military veterans were most satisfied when it came to their franchise brand in three areas: marketing and promotional programs, effective use of technology and training and support programs.
The median initial investment for veterans going into franchising is just over $100,000 before any special veteran discounts. Of the 100 franchise opportunities named in the report, required financial investments ranged from as high as several million dollars for a stand-alone restaurant to as low as $500 for a home-based travel business.
The top five franchise industries for veterans are Services, Senior Care, Home Services, Advertising & Marketing and Food.
In order to explore the apparent synergy between veterans and franchises, Franchise Business Review asked franchisors what their experience has been working with franchisees who served in the military. Overall they find that military training serves franchisees well since owning a franchise requires skills including the ability to follow established process, effective leadership under pressure and being able to get along with many types of people as well as commitment and perseverance. It is important, however, for veterans to understand that military success doesn't guarantee business success. Vets (like non-vets) typically need to learn additional skills to run their business successfully so should look for franchise brands that have a proven effective system in place to train and support new franchisees in areas they are not strong in.
"Being a vet is a special thing, and we certainly appreciate their service to our country," said Roland Bates, CEO of National Property Inspections (one of the companies sited in the report), which offers a 10% discount on its franchise fee for military veterans. "We have many successful vets who are now NPI owners and who have had a great talent for franchising."
Since November 2011 over 200,000 veterans have started careers in franchising, including over 5,500 new franchise business owners according to a related study conducted by Franchise Business Review for the International Franchise Association Educational Foundation. The Operation Enduring Opportunity Campaign, led by the International Franchise Association and First Lady Michelle Obama's Joining Forces program, appears to be exceeding its goals of helping military veterans own their own business through franchising.
Those who are interested in joining their ranks should ensure that a franchise opportunity is really as good as it appears by looking at third-party franchisee satisfaction data such as the Franchise Business Review's Veterans & Franchising 2014 report, which asked veterans questions regarding their franchise ownership satisfaction based on the areas of training and support, financial opportunity, brand leadership, operations and product development, core values (e.g., honesty and integrity of franchisor), general satisfaction, and the franchisee community.
This research is especially important for prospective franchisees on active military duty because it is extremely difficult to conduct the necessary due diligence—calling current franchisees, visiting local stores, and meeting with the corporate office—from afar even though forward thinking franchisors are offering on-demand webinars, easy-to-access educational material and Skype call ins.
To access the Franchise Business Review Veterans & Franchising 2014 report visit http://www.FranchiseBusinessReview.com.
About Franchise Business Review
Franchise Business Review is a national franchise market research firm that performs independent surveys of franchisee satisfaction and franchise buyer experiences. The firm's services include commissioned franchise research projects and industry-wide studies of franchisee satisfaction. Franchise Business Review is headquartered in Portsmouth, NH, and can be reached at (603) 433-2270. Visit http://www.franchisebusinessreview.com for more information.