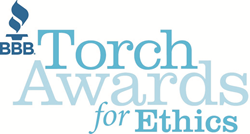 These three Torch Award for Ethics recipients clearly demonstrate superior character on a daily basis, and consistently exceed marketplace standards for ethics in their relationships with customers, employees, suppliers, industry peers and the communities
Columbus, OH (PRWEB) November 06, 2014
Better Business Bureau Center for Character Ethics today celebrated this year's recipients of its 19th annual Torch Awards for Ethics. The recipients were honored at the Torch Awards Gala Luncheon, held at the Hyatt Regency Ballroom in downtown Columbus.
Three businesses were selected as recipients of the prestigious 2014 Torch Awards for Ethics.
"While Central Ohio has proven to be home to so many great companies operating with high character, these three Torch Award for Ethics recipients clearly demonstrated superior character on a daily basis, and consistently exceed marketplace standards for ethics in their relationships with customers, employees, suppliers, industry peers and the communities in which they do business," said Kip Morse, President & CEO of the Central Ohio BBB.
Recipients of the 2014 Torch Award include: Coughlin Automotive Group; GBQ Partners, LLC; Linxus Communications, LLC.
Ten Students of Integrity Scholarship Recipients and future leaders were also recognized from high schools throughout central Ohio.
A summit of leaders gathered for BBB's inaugural Trust Summit prior to the luncheon to share best practices that build and measure cultures of trust and effectively advance marketplace trust. A panel of leaders from Cardinal Health, Franklin International, Coughlin Automotive and Wallick Companies discussed their perspectives on advancing marketplace trust and the implications on performance.
Founded in 1994, the national award-winning "educate & recognize" program is the premier public recognition of organizations that intentionally pursue the six Principles of Trust. The award embodies BBB's mission of advancing marketplace trust.
About BBB
For more than 100 years, Better Business Bureau has been helping people find businesses, brands and charities they can trust. In 2013, people turned to BBB more than 132 million times for BBB Business Reviews on more than 4.5 million businesses and Charity Reports on 11,000 charities, all available for free at bbb.org. BBB Serving Central Ohio was founded in 1921 and serving 21 counties in Ohio, is one of 112 local, independent BBBs across North America.
About BBB Center for Character Ethics
BBB's Center for Character Ethics Is a business-supported, free-enterprise advancing non-profit organization focused on serving business managers & classroom educators with leadership character and organizational ethics strengthening resources. Our mission is to provide character ethics assessment, training and recognition to for-profit and non-profit leaders and to provide k-16 educator-focused character strengthening programs. As a result, we intend to help both producers and consumers flourish in central Ohio.