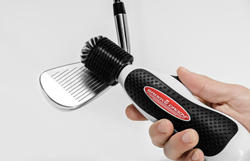 Groove Caddy is a revolutionary new product in the Golf Market"
Orlando, Florida (PRWEB) December 01, 2014
Groove Caddy (http://www.groovecaddy.com) announced they will launch a TV Ad Campaign starting December 1 on The Golf Channel. They also have ads in the December issues of the largest Golf publications in the US - Golf Digest and Golf Magazine. Groove Caddy is determined to spread awareness and become the new, unique, holiday golf gift.
Groove Caddy is pushing to keep the wave rolling after launching the product earlier this year at the prestigious PGA Merchandise Show in Orlando, FL. Company Founder and President, Jose Espin, announced they have sold their first 5,000 units and they will introduce the next Groove Caddy model (the X2) at the 2015 PGA Show in January. Groove Caddy currently has distributor agreements throughout Europe, Latin America and South Africa.
The Groove Caddy is a revolutionary new product in the Golf market. It is the first-ever motorized golf club cleaner. The hand-held device has a 1,000 RPM motor, rechargeable lithium-ion battery and safe non-abrasive nylon bristles. The design allows to clean deep inside the grooves, something a towel or rag cannot do. Additional features include an LED battery indicator, rubber grip, USB cable, a spray bottle and a carrying pouch that easily clips or stores in the golf bag.
Groove Caddy was created in Miami, FL by three long time friends who enjoyed playing golf together. They launched their product at the 2014 PGA Merchandise Show in Orlando, FL and won "Best New Product of the Year". What was meant to be a "side venture" has quickly escalated as Groove Caddy continues to reach milestones and gain world wide attention.