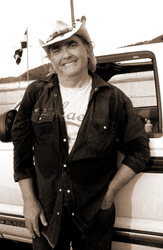 How does someone this good, this complete a talent, stay in the background for so long? He is exactly what the music biz needs so desperately... Mike Gross, US Music News
Shreveport, LA (PRWEB) November 11, 2014
Eric Sommer, American Artist, premier guitar player and prolific writer, finds solace and refuge in the small listening rooms that dot the American landscape.
And, according to Sommer, the Sentient Bean in Savannah is one of the best in the Land.
Which is exactly where this traveling singer, songwriter and all around musical badass can be found on Friday, November 21st, starting around 8pm-ish. He's been thru the area before but not for a few years, and this is an excellent opportunity to catch a truly authentic singer, writer and guitarin' ace, playing in a style that is almost impossible to copy.
On the heels of the successful release of "RAINY DAY KARMA", Eric Sommer is coming back with a new disc due out in January titled "The Word For World is Forest". This effort is significantly different from RDK.
This disc is loaded with new material and instrumentations. It's much more introspective, giving thoughtful pause to reflect on all manner of everyday observations Sommer continually references in his prose and lryics.
Upcoming solo shows for Eric Sommer:
November 12 - Red Light Cafe, Atlanta, GA
November 15 - NY Pizza, Greensboro, NC
November 18 - Southern Rail, Carrboro, NC
November 20 - Willow Tree, Johnson City, TN
November 21 - Sentient Bean, Savannah, GA
November 23 - Empty Glass, Charlestown, WVa
November 26 - IOTA, Arlington, Va
November 28 - Tommy's, Charlotte, NC
December 3 - JP's Hops House, Houston
December 6 - The Mill, Charleston, SC
December 11 - The Nick, Birmingham, AL
December 12 - The Midtown, Little Rock, AR
With open tunings, slide guitar, lap-slap tone guitar and a remarkably aggressive fingering style approach, watching Eric Sommer will make you jump out of your seat and holler for joy!
There are very few players who have maintained this authentic American style of guitar and Eric Sommer is one of the very best.
For Music Samples please visit iTunes or Eric Sommer online for additional schedules or contact him at eric(at)ericsommer(dot)com or call 202-255-1995. Additionally, you can find Eric Sommer on Facebook, too. RAINY DAY KARMA is also available on other popular sites.
Eric Sommer is represented by Clyde is Thinking, and PR programs are managed thru Pea Patch Island Entertainment; For more information, promo/appearance requests or to set up an interview, please contact Gary Curry at 609-202-5021.