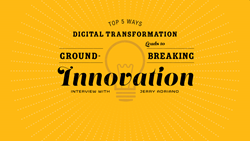 Products can be invented, but they aren't truly innovative until they deliver value to the customer.
Denver, CO (PRWEB) November 05, 2014
Telecommunications and the Next Aha Moment
Consumers interact with their product and service providers via their phones, tablets and other devices, a digital transformation made possible by the telecommunications and broadband industry. Of course, communication service providers are now undergoing their own digital transformation to remain competitive and in some cases to completely disrupt the industry—establishing themselves as the new industry leaders through their transformative innovations.
Here we explore the top ways digital transformation leads to ground-breaking innovation through: (1) gaining insights into customers, their preferences and how they interact with the business, its products and services; (2) decision-making based on metrics and empirical data; (3) ensuring ease and speed with every customer experience; (4) changing corporate culture; and (5) customized offerings determined most compelling to the consumer base. Today, it is about network speed, reliability and quality as well as cost, but the next feature-rich offerings will include unique data services, cloud storage, device interconnectivity, e-wellness and games to name a few.
Between the chaos of back-to-back meetings and a hectic travel schedule, we met up with Jerry Adriano to hear about the transformative power of data analytics in telecommunications, the resulting ground-breaking changes in business and its impact on consumers. Adriano is the Executive Vice President of SATMAP and a former executive at Sprint where he transformed Sprint's customer experience and established industry-defining experience metrics. What follows is our edited interview that captures Adriano's latest thinking on digital transformation and innovation.
Understanding the Customer
ClickFox: How does "understanding the customer" play such an integral role in digital transformation and innovation?
Adriano: Understanding customers' preferences, behavioral patterns and interactions with a company is fundamental to any successful digital transformation. Knowing customers allows a company to accurately identify where and how to transform the business, whether it is improving CSAT, increasing first contact resolution, reducing churn or growing revenue with higher conversion rates. In terms of innovation, it's in the definition: an innovation is useful to the customer. Products can be invented, but they aren't truly innovative until they deliver value to the customer. Therefore, understanding the customer is only innovative if it is useful and adds value.
Decision-making Based on Data
ClickFox: If we take a step back and look at the entire industry, it's probably fair to say that understanding the customer requires big data and advanced analytics on that data. How do you see analytics giving communications service providers an advantage?
Adriano: Over time data analytics will become imbedded in all decision making related to the customer experience. In the past, data analytics were done on an ad hoc or project basis. Increasingly, companies are using data analytics in the core of their business to improve the customer experience. That can be anything from how we match callers with agents at SATMAP, or what ClickFox does to analyze the customer journey. When you look at the expectations that customers have about a consistent experience, it requires you to know who that customer is and their preferences. Data analytics are at the core of developing that understanding of who that customer is and how the customer journey can be made easier to deliver the best possible experience.
Ease and Speed
ClickFox: It makes sense that customers want their experiences to be as effortless and take as little time as possible whether that's paying a bill, resolving an issue or getting an upgrade, but how do data analytics stimulate innovation?
Adriano: Data analytics allow companies to understand interests, needs and wants of the customer. Therefore the company can respond with the corresponding improvement in the customer experience whether that's customer, company or policy driven. Sprint was the first to focus on unlimited plans. In the wireless industry, there were numerous plan offerings with different numbers of minutes that were constantly being changed around. A large percentage of customer care calls were driven by customers who unexpectedly had a higher bill because they had gone over their bucket of minutes. The concept of "unlimited" was driven by these insights. Customers didn't want to be hassled with changing their plans all the time to fit different usage patterns. By having unlimited plans, customers were happier and made fewer calls to customer care.
ClickFox: Did you have any surprises from your analytics? Was there an Aha Moment that no one was expecting?
Adriano: If you go back to early days at Sprint, we had a lot of calls that appeared to suggest that customers were unaware that they were on a contract. We initiated projects to more clearly communicate the contract at point of sale, on the bill and in the IVR. We believed that these efforts would address the customer issue. However, analytics revealed that customers didn't have a lack of awareness of their contracts; it was actually that they had an error when they tried to make a price change or contract change that caused their bill to get out of whack. This caused an issue with their plan, and that's why they were calling and expressing their displeasure and wanting to opt out of their contract. It wasn't the contract itself. One set of solutions was based on the very basic way of categorizing calls, but the deeper analytics made it clear that the problem was very different than what we had understood.
Corporate Culture
ClickFox: For digital transformation, what are the embryonic trends in telecommunications that you see occurring at the most progressive companies and what should your industry colleagues be aware of to remain competitive?
Adriano: What companies are finding is that it is harder to reach the desired end state with their digital transformation than expected because it is not just a matter of developing a capability on the web or another channel. Even when you have all the different elements together, it's impossible to achieve a great outcome if you have problems with your policies, your processes and your systems. In order to make something available online that is usable and requires low effort, you have to simplify the core of your business. I hear from a lot of different companies, which I interact with that it's harder than they expected. In order to create that low effort experience, you have to fundamentally change a lot of your processes to make it easy for customers to do what they need to do on their own.
ClickFox: So it takes a cultural transformation before you can change the business. How do you effectively adopt that culture?
Adriano: I can give you an example without naming the company. During the financial crisis, a large financial institution had an extensive amount of mortgage customers who were calling because they couldn't afford to make their mortgage payments. This made the wait times to speak with any agent very long, which was making their customers irate. The company didn't have a self-service capability for a customer to go online and request a payment delay or relief of some kind. The company realized that part of the reason why they didn't have an online capability was because they didn't have a consistent policy on what criteria was used to have a company representative either grant someone additional time to make a payment or arrange a payment plan.
ClickFox: Couldn't they simply create an online tool for their customers?
Adriano: Eventually they did, but first they realized that they needed a culture where they had a consistent way that representatives would make decisions on giving customers an extension to make a payment. You have to rethink your approach. You may think it's great to empower your frontlines to make these decisions; you may also be driving a lot of inconsistencies because you have different interpretations of a policy. If it is not so clear cut and rules-based that it could be placed on the website, then it's inconsistent. You may be driving an inconsistent experience and higher effort. More broadly speaking, the cultural aspect is at the core of any transformation. There has to be a commitment to the experience and the lower effort journey to do things digitally rather than in-person or on the phone.
ClickFox: Why is that such a challenge?
Adriano: What often ends up happening is that you optimize within your own silo or area not realizing that you're one part of the journey that is comprised of multiple steps that encompass many different silos within a company. Everyone has to change their orientation and think about things from a broader customer journey perspective.
Customized Offerings
ClickFox: If the cornerstones for digital transformation all relate to customer and employee experience, where is the industry headed in the next three, five and ten years?
Adriano: Experiences will continue to get more customer-specific. What I mean by that is that the level of data that is available on each individual customer continues to grow, and when used, it can drive a much better customer experience. Companies will proactively know when things may not be going optimally and can address those—both on an immediate reactive basis and on a predictive basis. Companies will also use the data to understand where they are delivering a great experience and leverage that strength. First, a company must have a foundation of a consistently positive experience for customers. Once that foundation is established, the company has the ability to leverage the customer-specific data to further enhance the experience. That will be what emerges in the future as commonplace—not just the providence of a high-end hotel like the Ritz Carlton where they track frequent customers and know their preferences so that you are greeted by name and your experience is tailored to those preferences. That's an exceptional experience today, but those are the types of experiences in the future that will become more commonplace because there is such a wealth of data that can be leveraged.
Increasingly the digital channels will take a larger share of the customer interaction. This is something that will not only reduce the level of effort for the customer and drive a better experience, but also a more consistent experience. Ultimately, that will reduce costs for a company. It's one of those unique situations where you can deliver a better experience for the customer at a lower cost. Lastly, you'll see companies with multiple channels leverage data analytics to deliver more consistency across those channels such that customers can stop and start in any one of these channels and have a consistent, positive experience.
For more information on ClickFox, go to http://www.clickfox.com and specifically to the News Room.
About ClickFox
ClickFox offers a one of a kind big data platform and a suite of solutions that enable enterprises to get the most value out of each customer interaction across all channels. With its unique data infrastructure and proprietary algorithms, the ClickFox Experience Analytics (CEA) Platform connects all customer interaction data across enterprise systems to create transparency for end-to-end customer journeys. Using CEA, our Fortune 1000 clients have gained insights that have led to billions of dollars in savings and revenue.
CONTACT INFORMATION
Rebecca Rowe
ClickFox
303-951-3490 x4043