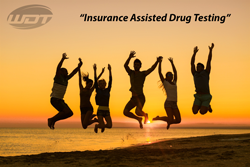 "Insurance Assisted Drug Testing"
Palm Beach, Florida (PRWEB) November 06, 2014
Over 20 years ago, Nancy Reagan promoted "Just Say No" and it has not made a difference in America's drug problem. Unfortunately, her well-intended program did not yield the results we all hoped for. Wholesale Drug Testing.Com is presenting a new approach to our Country's serious drug problem. So, they have created a petition at Whitehouse.Gov asking for Obama's Affordable Care Act to cover the costs of drug tests for parents.
Bottom line – rich or poor, the war on drugs is failing because it is not being treated at the source. The "source" being the parents that unknowingly raise children who may be running the streets using and abusing illicit drugs, without the slightest knowledge of the struggle their child is facing on a daily basis. The goal of WDT's proposed program is to allow families to obtain easy and affordable drug testing solutions for their family members/children paid for by insurance or the [ACA].
Having been involved in the drug testing industry for more than a decade, the staff at Wholesale Drug Testing.Com has seen the deterioration of American communities first hand, as the drug war is being lost. Because of that, the mission of the company is to distribute affordable drug tests to people, students, parents, and clinics so they know what is going on with the person they care about. A drug problem can ruin families, lives, and dreams. WDT wants to stop the problem before it is out of control. This petition obviously will not stop drug abuse all together, but will empower families to detect and deter drug abuse.
Giving parents the ability to test their children, while having their insurance pay for it, makes it an extremely available option for them. In turn, children will realize that their parents have the resources to test them at will, which is the ultimate deterrent. The company believes that this will create a powerful shield to prevent children from giving in to peer pressure from the beginning, "when saying no" is the most important.
Almost half of high school students (44 percent) know a student who sells drugs at their school. When asked what drugs are sold at their school:

91 percent said marijuana;
24 percent said prescription drugs;
9 percent said cocaine; and
7 percent said ecstasy."
Source: QEV Analytics, LTD., "National Survey of American Attitudes on Substance Abuse XVII: Teens," The National Center on Addiction and Substance Abuse at Columbia University.
These are some very scary statistics indeed. And, that is why WDT is trying to prevent the incestuous invasion of the drug epidemic in our families today by combating this problem at the "source." The company asks that supporters sign their petition on Whitehouse.Gov (http://www.wholesaledrugtesting.com/petition.html).
Contact Information – For more information, please contact any of our representatives by phone at 888.506.8690, by email at petition(at)wholesaledrugtesting(dot)com or through our website http://www.wholesaledrugtesting.com.