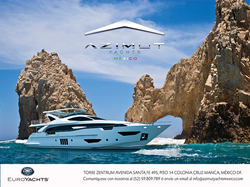 "We are very pleased to partner with the world market leader, Azimut Yachts," said Rodolfo Hagemann. "The Mexican market is experiencing an increasing demand for unmatched luxury, and Azimut's beautifully crafted yachts fit perfectly into
(PRWEB) November 12, 2014
The most prestigious Italian builder of mega yachts in the world, Azimut-Benetti, recently announced a partnership with Euro Yachts Mexico, naming Azimut Yachts Mexico the nation's exclusive Azimut dealer. This agreement furthers Azimut's already expansive network and signifies the importance of the growing Mexican market.
Azimut Yachts is an Azimut-Benetti Group brand alongside Atlantis, Magellano, Flybridge, S, and Grande collections. Azimut-Benetti is the world's leading private group in the luxury boating sector. At the forefront of production, Azimut-Benetti has the most extensive sales network in the boating industry worldwide, with 138 sites in 68 countries. The group continues to grow in success by combining with Euro Yachts Mexico, who has been leading the industry in Mexico since 1988.
Euro Yachts Mexico is based in Mexico City, with a rapidly growing distribution network in key markets including Cancun and Acapulco. The company is led by Rodolfo Hagemann, who boasts more than 30 years of experience in the marine industry and has been at the forefront of providing luxury yachts to the most discerning clientele.
"We are very pleased to partner with the world market leader, Azimut Yachts," said Rodolfo Hagemann, Director of Euro Yachts Mexico. "The Mexican market is experiencing an increasing demand for world-class luxury, and Azimut's beautifully crafted yachts exemplify our approach of bringing the best of the best to Mexico's elite customers. Our many years of experience in the yachting business, and the power of the Azimut brand, make us a natural cooperation - we look forward to great success together."
Mr. Federico Ferrante, President of Azimut-Benetti USA, said, "This new partnership enriches our existing network with the experience and strong presence of Euro Yachts in Mexico. Through cooperation with highly professional partners, such as Euro Yachts in Mexico, we are able to globally launch our 100% Italian made product line into local markets."
Euro Yachts Mexico has hired Miami's hot new creative boutique, Glo Creative, to help launch the new venture. According to Glo Creative's co-founder and Chief Creative Officer, Michael Glovaski, "We see a true visionary client in Rodolfo Hagemann, and are proud to begin this partnership. Our team of skilled designers & developers are looking forward to bringing the best thinking to Azimut Yachts Mexico, whether it be cutting-edge web technologies, social media, or printed materials showing of the stunning beauty of Azimut's Yachts."
As a service-oriented company with deep experience, Azimut Yachts Mexico provides highly trained technicians ready to provide world-class service in all areas and a large inventory ready for delivery.
For inquiries, or to schedule a sea trial for your next elite yacht, please contact:
info(at)AzimutYachtsMexico(dot)com
+52 55 559 809 789