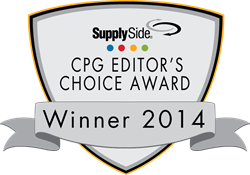 The Editor's Choice Award is an honor for a new product like Relizen, but even more exciting are the testimonials that continue to roll in from doctors and consumers.
New York (PRWEB) November 06, 2014
Relizen®, a patented, non-hormonal nutritional supplement for the relief of hot flashes associated with menopause, was named Best Women's Health product at the SupplySide CPG Editor's Choice Awards.
Relizen was selected by the SupplySide editorial team for innovation and market impact in the field of women's health, as well as Relizen's outstanding scientific research. The winners were announced at SupplySide West 2014 during the CPG Editor's Choice Awards Reception on Wednesday, October 8 at the Mandalay Bay Resort in Las Vegas, Nevada.
Relizen is a patented, non-estrogenic nutritional supplement for managing hot flashes associated with menopause. The product was launched in the United States in the summer of 2014, but has been used for over 15 years by more than one million women in Europe, and is one of France's leading menopause products.
Relizen's clinically shown efficacy is one of the many merits that helped it stand out from the rest and secure the Editor's Choice Award in the women's health category. Studies on the product have been published in several leading medical journals, including Climacteric, Menopause, Genesis, and Cancers Au Feminin.** In addition, Relizen is backed by an Expert Physician Advisory Board comprised of prestigious physicians with a focus in women's health.
"Relizen is different from most existing hot flash remedies because it is not a phytoestrogen and it is supported by demonstrated safety and efficacy published in peer-reviewed journals," said Jed Rosenbaum, VP Marketing of JDS Therapeutics, the makers of Relizen. "The Editor's Choice Award is an honor for a new product like Relizen, but even more exciting are the testimonials that continue to roll in from doctors and consumers who are excited and relieved that they have finally found a product that offers the best of both worlds – non-estrogenic relief from hot flashes and the science to back it up."
Relizen's active ingredient is made from a purified Swedish flower pollen extract, grown without pesticides and harvested in the fields of southern Sweden according to Good Agricultural and Collection Practices. A proprietary state-of-the-art biotechnology process removes pollen allergens and ensures every tablet of Relizen is easily absorbed by the body.
To learn more about the other award winners, including product photos and short descriptions on their innovative positioning, in the SupplySide Editor's Choice Awards Winners Gallery, visit http://www.supplysideshow.com/galleries.aspx.
To find out more about Relizen, visit http://www.Relizen.com.
About SupplySide West
For more than 15 years, SupplySide has helped dietary supplement, food, beverage, personal care and cosmetic professionals find information to explore, discover, innovate and market their next best-selling product.
"In the past few years we've had tremendous success highlighting the products that are coming to market, driven by the innovative ingredients highlighted at SupplySide," said Heather Granato, vice president, content, in Informa's Health & Nutrition Network. "Our editorial team was impressed this year at the range of products and out-of-the-box thinking that these companies are putting into product development to reach their target markets." For more information, visit supplysideshow.com.
About JDS Therapeutics
JDS Therapeutics markets proprietary, high-quality healthcare products to physicians and patients. JDS is focused on providing patients with scientifically backed, natural approaches to meeting their healthcare needs, and owns more than 100 issued or pending patents worldwide involving clinically active natural compounds.
Relizen® is a registered trademark of JDS Therapeutics, LLC.
**Sources cited:
Winther K, Rein E, Hedman C. [Relizen] — herbal remedy made from pollen extracts, reduces hot flashes and improves quality of life in menopausal women: a randomized, placebo-controlled, parallel study. Climacteric. 2005;8:162-170.
Hellström A., Muntzing J. The pollen extract [Relizen] –a nonestrogenic alternative to hormone therapy in women with menopausal symptoms. Menopause. 2012;19(7):825-829.
Elia D, Mares P. Assessment of the tolerance and effectiveness of a food supplement [Relizen] for menopausal women. Genesis. 2008;135:12-15.
Espié, Marc. Bouffées de chaleur et cancer du sein: Quelle prise en charge efficace et sans risqué? Cancers Au Feminin. 2014,3:1-16.