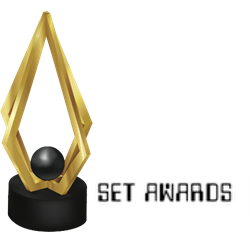 Creators spark imagination and dreams that, through ingenuity, can become the realities of tomorrow. The entertainment industry leaders being honored this year know how to entertain and inspire our future.-Brian Dyak
Los Angeles, CA (PRWEB) November 05, 2014
Films Captain America: The Winter Soldier, Transcedence and television shows Bones, The Big Bang Theory and Marvel's Agents of S.H.I.E.L.D. are among the productions to be honored at the 4th Annual SET Awards on November 12, 2014 at the Skirball Cultural Center in Los Angeles, CA. The SET Awards, which are produced by the Entertainment Industries Council (EIC), recognize the power and influence of entertainment, digital and news media to engage young minds and encourage interest in science, engineering, technology and math. This year's SET Awards collaborators include Lockheed Martin, Google, Rolls-Royce aero engines, K'NEX and Studio 229, who are all engaging in The Art of Making a Difference (TM), bringing attention to the fields of science, engineering, and technology.
"Movies, videos and multimedia content with technological, scientific and even design storylines are magnets for youth that can launch them into technical careers, filling existing workforce gaps and creating the innovation necessary to propel not only the entertainment industry, but also other industries and our nation into a bright future," said Brian Dyak, President and CEO of EIC. "Creators spark imagination and dreams that, through ingenuity, can become the realities of tomorrow. The entertainment industry leaders being honored this year know how to entertain and inspire our future."
TV Comedy Honors

The Big Bang Theory (CBS): Season 7
Silicon Valley (HBO): Season 1
Documentary Honors

Mythbusters (Discovery Channel): Season 41
Life According to Sam (HBO)
Brain Games (National Geographic): Season 3
Children's Programming Honors

The Sunny Side Up Show (Sprout)
Online Program Honors

Science of Golf (NBC Learn)
Feature Film Honors

Captain America: The Winter Soldier (Marvel Studios)
Her (Warner Bros. Pictures)
Transcendence (Warner Bros. Pictures)
Drama Series Honors

Bones (FOX): The Spark in the Park
Person of Interest (CBS): Season 3
TV Movie or Miniseries Honors
The Normal Heart (HBO)
Special Legacy and Leadership & Inspiration Awards will be presented in the disciplines of science, engineering and technology for portraying these fields in encouraging and positive ways.
Legacy Award Honoree

Walter Mirsch, executive producer of the classic film The Great Escape
SET Engineer Award Honoree

Marvel's Agents of S.H.I.E.L.D. (ABC): Season 1. Along with the show's actors who play the roles of Jemma Simmons (Elizabeth Henstridge) and Leo Fitz (Iain De Caestecker)
SET Technologist Award Honoree

Halt and Catch Fire (AMC): Season 1
Bob Gurr Leadership & Inspiration Award Honoree

Director Brad Bird for his continued efforts to engage audiences in the science, engineering and technology fields through his films, which include Tomorrowland, The Incredibles and Mission Impossible: Ghost Protocol.
SET Leadership & Inspiration Award Honoree

Business leader, songwriter and philanthropist will.i.am for his work to engage students in science, engineering and technology fields and for his ability to engage their educational and creative sides through music that emphasizes and utilizes "STEM" concepts.
Included on the SET Awards Honorary Committee are Emiliano Calemzuk (Time Inc.), Robert DiBitetto (A&E), Stephen Friedman (MTV) , Mark Graboff, Ted Harbert (NBC), Laura Michalchyshyn, Deborah Myers (Science), Dawn Ostroff (Conde Nast), Mark Pedowitz (The CW), Kevin Reilly (TNT/TBS), Sheri Salata (OWN), Nina Tassler (CBS), Jeff Wachtel (NBC Universal), Vivi Zigler (Shine 360 and Digital), Tom Calderone (VH1), Erik Logan (OWN), Chris McCumber (USA), Steve Koonin (Atlanta Hawks), Mitch Bainwol (RIAA), Neal Tiles, Herman Rush, Steve Schiffman, David Goldsmith, Stan Lee (POW! Entertainment) and Michael Wright (DreamWorks).
EIC is a non-profit organization founded in 1983 by leaders within the entertainment industry to bring the power and influence of the industry to communicate about health and social issues. The organization is considered to be the chief pioneer of entertainment and journalism outreach and a premiere success story in the field of entertainment education. This mission relies on providing resource information to the creative community and culminates in recognition of the industry through the national television special PRISM Showcase which addresses accurate portrayals of substance use issues and mental health concerns. The organization also produces the SET Awards, honoring positive and non-stereotypical portrayals of science, engineering and technology.
For a complete list of health and social issues addressed by EIC and local projects please visit First Draft and EIC's website at http://www.eiconline.org or the internet television network at EICnetwork.tv. The PRISM Awards web site is http://www.prismawards.com. The SET Awards web site is http://www.eicsetawards.com
# # #
Media Contact:
Larry Deutchman, 818-840-2016, ldeutch(at)eiconline(dot)org
Skylar Jackson, 703-481-1414, sjackson(at)eiconline(dot)org