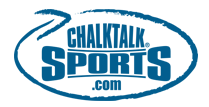 This revolutionary printing process has allowed us to offer thousands of really exciting new designs to our customers.
Norwalk, CT (PRWEB) November 05, 2014
ChalkTalk Sports is announcing that it has expanded its product line of sports-related, custom-made apparel and gifts, due to recently updating its printing process. The new printing process involves design work and direct printing processes in-house, which allows for a faster turnaround time and better communication between customers and designers. All of ChalkTalk Sports' products are listed on the company's official website, and sports fans are able to digitally design their own customized items, or they can choose from thousands of pre-made designs that the experts at ChalkTalk Sports have created. Their website features exclusive designs in many gift and apparel categories across 23 sports, including hockey, lacrosse, soccer, football, baseball and more.
Additionally, the new printing capabilities allow customers to order custom-designed items individually or in bulk -- this feature is something that sets ChalkTalk Sports apart from its competitors. This service applies to all types of athletic-themed gift items, including everything from sports room decor, to Christmas tree ornaments, to hockey pucks, baseballs, sports jewelry and much more.
With no setup fees and no minimum order size, ChalkTalk Sports is quickly gaining popularity among parents of athletes and sports players of all ages.
"We've been expanding our personalization options, and we are adding new products daily because our capabilities have expanded due to this new printing technology," Ryan Lynn, ChalkTalk Sports' Director of Marketing, explains.
"This revolutionary printing process has allowed us to offer thousands of really exciting new designs to our customers. All printing and design work is done in-house, turnaround time is extremely fast, orders can be shipped in as fast as one day. Our customers love ChalkTalk Sports for our unique designs, and we've had many great responses from clients about the custom design process. We're becoming the one stop for all you sports gifts need. Everything from team gift ideas, coaches gifts or individual player gifts, we've got you covered."
ChalkTalk Sports was born from one family's passion for sports, and the business has become a strong community advocate and sponsor of youth athletic programs, ensuring that every child has the opportunity to play, grow, and stay active. ChalkTalk Sports has been offering custom-designed athletic apparel and gifts for over 15 years, and the decision to revamp its printing process and expand its product line is part of ChalkTalk Sports' mission to make athletics fun and accessible for the whole community.
About ChalkTalk Sports
ChalkTalk Sports takes sports apparel, gifts and accessories to the next level -- for them, it's not just merchandise, it's a lifestyle. ChalkTalk Sports designs and manufacturers a variety of products for over 22 sports, including water bottles, ceramic mugs, hats, headbands and more. To learn more about the company, visit http://www.chalktalksports.com.