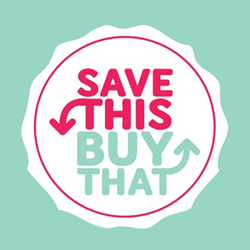 You can have fun on a budget, and SaveThisBuyThat.com shows visitors how to do just that"
Roanoke, Virginia (PRWEB) November 06, 2014
Member One Federal Credit Union recently launched SaveThisBuyThat.com, a collection of money saving tips, recipes, DIY projects and reviews. Member One created the Save This, Buy That® brand to add a new twist to financial education. Rather than focusing around major events like car or home buying, Save This, Buy That® focuses on everyday things you can do to save money in a fun and engaging way.
The new website collects information from Member One's social media accounts plus offers exclusive content and deals to subscribers. The site is divided into different categories, including DIY projects, recipes and seasonal money saving guides.
"SaveThisBuyThat.com was created to be a resource to help anyone save money in their everyday life. We wanted the site to be interactive and easy to navigate. The 'card' layout did just that. With a similar feel to Pinterest, visitors can easily scroll through content and click on desired posts. It truly is a great resource for anyone who wants to find ways to save money without having to feel like you're constantly restraining yourself. You can have fun while on a budget and SaveThisBuyThat.com shows visitors how to do just that," said Tara Lilly, Marketing Supervisor at Member One FCU.
Member One also has interactive community events planned for Save This, Buy That®, including the second annual Thanksgiving Cook-Off, scheduled for November 18th at the Jefferson Center in Roanoke, Virginia. The event will benefit Feeding America Southwest Virginia.