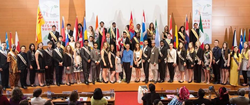 Human rights must be made a fact, not an idealistic dream,
(PRWEB) November 05, 2014
As the United Nations launched its 70th year, human rights were once more affirmed as its founding principle. "Poverty, disease, terrorism, discrimination and climate change are exacting a heavy toll," said UN Secretary General Ban-Ki moon in his anniversary message. "The founding of the United Nations was a solemn pledge to the world's people to end such assaults on human dignity, and lead the way to a better future."
In 1948, three years after the UN's founding, the General Assembly took steps to accomplish its purpose by proclaiming the Universal Declaration of Human Rights "as a common standard of achievement for all peoples and all nations," and urged "every organ of society" to "strive by teaching and education to promote respect for these rights and freedoms" to "secure their universal and effective recognition and observance."
Education is key. Yet, in 2001, surveys showed that less than 10 percent of the population knew of the existence of the Declaration and even fewer could name more than one or two of the 30 basic rights articulated in the document.
Inspired by the words of Scientology Founder L. Ron Hubbard that "Human rights must be made a fact, not an idealistic dream," the Church of Scientology sought to remedy this by sponsoring one of the world's broadest human rights education and public information initiatives, United for Human Rights and its program for young people, Youth for Human Rights.
Youth for Human Rights was founded in 2001 and has grown to an international movement. Its purpose is to educate youth on the principles covered in the 20 articles of the Universal Declaration of Human Rights and thereby foster a generation of human rights advocates.
Each year, Youth for Human Rights International and the Human Rights Department of the Church of Scientology organize a youth summit in locations significant to human rights and international cooperation, such as United Nations headquarters in New York, Geneva, or Brussels, seat of the European Union.
"Outstanding work in human rights" is the primary qualification for those selected as delegates and youth ambassadors.
The 11th Annual Youth Summit was held this year in Brussels with 60 youth delegates and ambassadors attending from countries as far away as Mongolia, Liberia, Nepal, Australia and Pakistan.
There, they expanded their understanding of the work they have undertaken through presentations by prominent human rights leaders and other youth delegates who shared the results they have accomplished in their countries. This year's presentations included a special video message by former UN Secretary General Boutros Boutros-Ghali and speeches by General Madame Kwamu Nana of the National Commission on Human Rights and Freedom of Cameroon; Ireneo Omositson Namboka, former Burundi Ambassador to the UN; and Sonia Ramzi, former Chief of the Promotion Section of UNESCO's Division of Cultural Heritage.
In his October 24 speech, the Secretary General called on "governments and individuals to work in common cause for the common good."
The Church of Scientology and Scientologists have answered this call. With support of the International Association of Scientologists, which celebrated its 30th anniversary October 17, in the last year alone more than 4 million copies of human rights booklets, portfolios and DVDs were distributed to raise awareness of the Universal Declaration of Human Rights and thereby accomplish the humanitarian goals set by the United Nations nearly seven decades years ago.
To make United for Human Rights and the other humanitarian and social betterment initiatives it supports even more broadly available, the Church of Scientology has published a new brochure, Voice for Humanity—Real Help, Real Results.
Inspired by the words of L. Ron Hubbard, Founder of the Scientology religion, that "a being is only as valuable as he can serve others," Scientologists wholeheartedly support these programs. Participation and collaboration in these initiatives is invited and welcomed from all who seek to improve conditions for themselves and others.
For more information, visit the Scientology website at http://www.Scientology.org/how-we-help/voice-for-humanity.