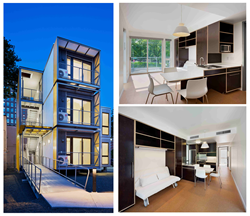 "This prototype exemplifies why we feel that modular construction is the preferred method for building high quality, high efficiency structures in a reduced timeframe."
Charlottesville, VA (PRWEB) November 10, 2014
The Modular Building Institute is pleased to announce Mark Line Industries' Urban Interim Housing Prototype as Building of the Month for November 2014. Manufactured by Mark Line and built for the New York Office of Emergency Management, these units were designed to facilitate a "shelter-in-place" response in the wake of a disaster that would make homes in densely populated areas uninhabitable.
In the two years since Superstorm Sandy devastated the Northeast, the need has been recognized for greater disaster preparedness in urban areas. Five interim housing prototype modules were fabricated in Indiana by Mark Line Industries and then trucked to NYC and installed onsite at the corner of Cadman Plaza East and Red Cross Place using a crane. These prototypes will remain here for one to two years undergoing occupancy tests by New York's Office of Emergency Management staff and students.
MBI Executive Director Tom Hardiman said, "We are also pleased to recognize a project that will help get victims of urban disasters back on their feet quickly. This prototype exemplifies why we feel that modular construction is the preferred method for building high quality, high efficiency structures in a reduced timeframe."
The one- to three-bedroom modules are designed to be deployed quickly in vacant lots, private yards, or public spaces in a flexible arrangement to suit the area available. The assembled modules can be plugged into existing city utilities but are also capable of being equipped with photovoltaic arrays to harvest solar power. They were designed with to strictest zoning requirements in the US, which means they can be used in any state with a need for disaster relief housing.
# # #
About MBI
The Modular Building Institute is the international nonprofit trade association that has served the modular construction industry for 30+ years. Members are suppliers, manufacturers and contractors involved in all aspects of modular projects -- from complex multistory solutions to temporary accommodations. As the voice of commercial modular construction, MBI expands the use of offsite construction through innovative construction practices, outreach, education to the construction community and customers, and recognition of high-quality modular designs and facilities. For more information on modular construction, visit http://www.modular.org.