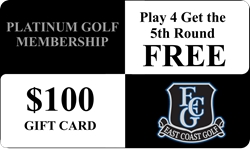 Competition is high and prices remain at an all time low
Myrtle Beach, SC (PRWEB) November 06, 2014
East Coast Golf Management (ECGM) recently released the details for the 2015 Platinum Golf Membership. The membership for 2015 will retail at $159.95 and will include a $100 gift card that can be redeemed for golf, merchandise, and food and beverage at participating courses. Unlike other similar offerings, this program is available for both U.S. and Canadian golfers.
Released on October 18, 2014, the Platinum Membership offers savings of up to 60% at a growing selection of golf courses in North Carolina and South Carolina, including many Myrtle Beach Golf Courses. As in previous years, the core of the program still includes the popular Play 4 – Get the 5th Round FREE bonus, plus a $100.00 gift card.
"The state of the golf industry couldn't benefit golfers more," says Dave Harbaugh, Director of Operations for ECGM. "Competition is high and prices remain at an all-time low. We feel like we've delivered on our commitment to provide the best value in a golf membership program available. With this one we've tried to create the best value available, and we're proud to offer it to our members for 2015. We welcome golfers from all over the United States and Canada to participate."
For a limited time (through December 15, 2014), ECGM is offering the Platinum Golf Membership for $109.00.
For more information about the Platinum Golf Membership program visit their website at http://platinumcardsite.com. To learn more about ECGM, its services, and the golf courses in the ECGM program go to http://eastcoastgolfmanagement.com.