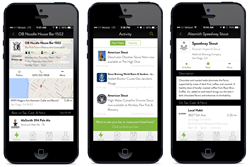 I'm running 7 bars and depend on the TapHunter tools every day. They cut down the time I was spending managing my beverage program from 2 hours a day to 10 minutes.- Mark Schultz, Beverage Director, Slater's 50/50 Burgers by Design
San Diego, CA (PRWEB) November 06, 2014
The air is getting colder, ushering in the season of mulled cider and a hot toddy by the fireplace. And just in time for the holidays and these delicious seasonal offerings, TapHunter has a new look and an enhanced set of tools to better promote establishments' beverage offerings, and bring bar owners, breweries, and restaurant owners and their patrons together with increased ease and efficiency.
The well known craft beer locator now finds more than just craft beer—users can locate spirits and cocktails, too. The app offers a custom activity stream which notifies app users when drinks that they follow—not only specific beers and spirits, but also beer and spirit styles, and also cocktails—are being served somewhere nearby or at their favorite establishments. Geo-locator technology makes it easy for consumers to find out where a favorite drink is being served, even when they are in a new city. For bar managers, this means more unique visits from new Hunters. TapHunter makes it easy for business owners to communicate with customers, leaving them with more time to spend choosing the perfect beverages to feature this holiday season.
The enhancements to TapHunter means that there are even more ways for app users to find the drinks they love, and for bar owners to maximize their visibility to customers through improved promotion of their offerings. Better promotion of beverage programs through the app is a vital bar marketing tool, as 88% of consumers who look up a bar or restaurant on their mobile devices either call or go into that business within 24 hours of their search. Now, bar owners can update beer, cocktail, spirits (and soon wine) offerings with a simple one-stop-shop solution, providing access to digital drink menus at the swipe of a finger.
TapHunter helps bar owners reach new and growing customer markets—the spirit and cocktail fans—better than ever. The enhancements are seamlessly integrated with the familiar backend tools that already help bar owners manage and market their beverage programs to increase business. TapHunter supports hundreds of bars, breweries, restaurants, and bottle shops across the U.S., Canada, and Australia, and they love what TapHunter can do: the retention rate among owners using TapHunter is 99%. In other words, people love to be part of the Hunt.
Download the TapHunter App Now
Download the revamped TapHunter app through the App Store and on Google Play. The same great features are also accessible at TapHunter.com. Together, bar owners and patrons can toast to TapHunter's new features, which make it easier than ever for users to find what they crave, whether it is a very dirty martini, a dry-hopped double IPA, a rare aged whiskey, or a classic Manhattan.
Bar Owners - New To TapHunter?
Learn more and try TapHunter's tools today to start saving time and selling more.
About TapHunter
The TapHunter team is dedicated to helping bar and restaurant owners save time and money with one-stop-shop tools, and connecting them with the patrons they seek through an innovative mobile app. The TapHunter tools help busy bar owners manage and market their beverage lists by automatically updating their social media, website, print menus, and digital drink boards in just one click.