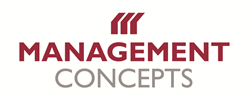 Tysons Corner, VA (PRWEB) November 10, 2014
Management Concepts Inc., the nation's premier provider of professional development, performance improvement, and talent management solutions for the public sector, today announced its participation as an Academy Patron-level sponsor at the National Academy of Public Administration (NAPA) 2014 Fall Meeting. Taking place November 13, 2014 in Crystal City, Va., the event's focus is on "Public Administration 2025 – How will Government Adapt?"
The Fall Meeting program will explore changes in the ways government, at all levels, will adapt to a rapidly changing environment. How government delivers on its goods and services to the American people will look far different a decade from now – change will be transformative, introducing new risks, but more importantly new opportunities and a chance for a restored public confidence in government.
Management Concepts is proud to serve as a primary sponsor for this innovative and informative discussion. In addition, Management Concepts president, Stephen L. Maier, will join the Academy leadership in providing opening remarks to kick off the day's events. Esteemed speaker faculty includes:

The Honorable Katherine Archuleta, Director, Office of Personnel Management
Reginald F. Wells, Deputy Commissioner for Human Resources and Chief Human Capital Officer, Office of Human Resources, Social Security Administration
The Honorable Beth Cobert, Deputy Director for Management, Office of Management and Budget
The Honorable Dan Tangherlini, Administrator, General Services Administration
The Honorable Robert F. Hale, Former Under Secretary (Comptroller) and Chief Financial Officer, Office of the Under Secretary of Defense, U.S. Department of Defense
About Management Concepts
Management Concepts is the nation's premier provider of professional development, performance improvement, and talent management solutions for the public sector. Since 1973, we've collaborated with and supported every major agency in the Federal government, thousands of state and local government offices, numerous non-profit organizations and universities, and hundreds of corporations; unleashing the potential of more than one million individuals and enhancing the performance of teams and organizations. Visit http://www.ManagementConcepts.com.