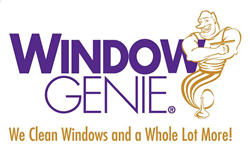 Window Genie was the clear choice. If nothing else, their family-like culture and commitment to community service had me sold.
Milton, WI (PRWEB) November 06, 2014
Window Genie announces the grand opening of its newest location in Milton, WI on Monday November 10th. Window Genie is a nationally ranked home service franchise specializing in window cleaning, window tinting, pressure washing, gutter cleaning and more. Window Genie of South Wisconsin will serve customers in communities including Milton, Janesville and Edgerton. Lou Pins is the Owner/Operator.
Lou Pins spent the last 25 years in supply chain management at several companies in Southern Wisconsin. "In recent years I noticed the large corporations I worked for were doing less and less on a local community level," he said. "It seemed that profit became more important than culture, so I decided it was finally time for me to move on."
After putting his resume out online earlier this year, Pins was contacted by Franchise Coach, Marty Barnes of The Entrepreneur's Source. Pins said, "Working with Marty was great because he helped me realize that business ownership would help me gain back what I was missing in my work-life balance. I wanted more freedom and I wanted to continue getting involved in my community."
After numerous conversations, Barnes presented Pins with 3 franchise opportunities he thought best fit Pins' strengths, weaknesses, interests and goals; Window Genie was one of those 3 options. "Off the bat I was interested in all three pretty equally," Pins said. "But after visiting the websites and digging a bit deeper, speaking with the support teams and existing owners at each franchise, Window Genie was the clear choice. If nothing else, their family-like culture and commitment to community service had me sold."
Pins opens his business on Monday November 10th and will perform a free window cleaning at the home of Vietnam veteran, Dick Fry on Tuesday the 11th. Pins said, "While I had not personally met him until recently, he's well known in the community and was Grand Marshal of the 2014 Milton 4th of July parade so he immediately came to mind when I was thinking of veterans in the Milton area." Fry was wounded while fighting in Cambodia on 5/24/1970 and retired from the military in 1971. "Offering a free window cleaning is the best way for Window Genie to show our thanks and appreciation for Dick's service to our country. Establishing meaningful relationships with people in the area is how we'll do business. My wife Jackie was born and raised here and I've lived here since 1987. Window Genie will allow us to stay connected and contribute to the community we love."
Pins plans to hire one or two additional technicians in his first few months of business. He said, "We're excited to get our team trained and on the right track this fall with the pre-holiday cleaning so we're prepared to knock it out of the park this spring."
For more information about Window Genie of South Wisconsin, or for photos, please contact owner Lou Pins at Lpins(at)windowgenie(dot)com or 608-868-4364. Also please visit his profile page at http://south-wisconsin.windowgenie.com/
About Window Genie: Window Genie is a nationally ranked home service franchise specializing in window cleaning, window tinting, pressure washing, gutter cleaning and more. Window Genie started as a small local window cleaning company in Cincinnati Ohio in 1994 and has since grown to over 70 franchise locations in 22 states. Each franchise location is individually owned and operated. For more information, visit http://www.windowgenie.com
###