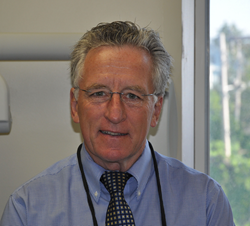 Braintree, MA (PRWEB) November 05, 2014
Dr. Thomas Mone honors Pancreatic Cancer Awareness Month by educating patients on the importance of proper dental care for Braintree, MA residents who have gum disease. In conjunction with a good dental hygiene routine, prompt treatment for periodontal disease and other dental issues may help reduce a patient's risk of developing pancreatic cancer and other harmful diseases. When gum disease is left untreated, it allows bacteria to enter the body directly through the bloodstream, which has been linked to the development of many dangerous diseases.
Gum disease is not only extremely prevalent in the United States, but it is the main cause of missing teeth in adults. Although losing teeth can be an uncomfortable inconvenience, there are potentially many more dangerous side effects of untreated periodontal disease, including pancreatic cancer, diabetes, babies born with low birth weights, heart disease, ischemic stroke, head and neck cancer, and more. Patients who have common symptoms of gum disease, including inflamed gums, chronic bad breath, receding gums, and loose teeth should seek dental care in Braintree, MA as soon as possible. Patients who receive prompt treatment can reduce their risk of developing other serious health complications that are shown to be linked to gum disease.
Periodontal patients who are suffering from gum disease are invited to learn about the LANAP® protocol that is commonly performed by Dr. Mone. This highly acclaimed gum disease treatment option utilizes an FDA cleared laser to identify and remove infected gum tissue from the mouth through a series of targeted laser pulses. Because the laser cauterizes the treated area and effectively seals it off, no sutures are required. Additionally, patients typically experience very little bleeding during and after the procedure, and there is a reduced risk of complications.
Dr. Mone reminds patients who have periodontal disease that it is important for them to improve their health by seeking prompt treatment during Pancreatic Cancer Awareness Month. Patients who are interested in receiving dental care in Braintree, MA are urged to schedule an appointment with Dr. Mone's practice and find out if they are good candidates for the minimally invasive LANAP® protocol.
About The Doctor
Mone Periodontics is a periodontal practice offering personalized dental care for patients in Braintree, MA. The leading periodontist at the practice, Dr. Thomas Mone, graduated from the University of Massachusetts with a bachelor's degree, and then went on to attend the University Of Pennsylvania School Of Dental Medicine and graduated at the top of his class. He completed his periodontal training at Boston University Goldman School of Graduate Dentistry. Dr. Mone is part of one percent of dental professionals providing the LANAP® FDA cleared laser procedure for gum disease and periodontal treatment. To learn more about Mone Periodontics and their dental services visit their website at http://www.braintreeperio.com and call (781) 348-9925.